Matthews Compares Boehner to Palestine's Mahmoud Abbas: 'Worried About the Terrorists Behind Him'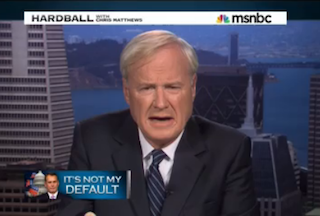 On Monday evening's edition of Hardball, Chris Matthews employed an elaborate analogy that cast Democrats as Israel and Republicans as Palestine in stalemate that resembled the decades long stand-off in the Middle East. In Matthews' formulation, House Speaker John Boehner (R-OH) is Palestinian President Mahmoud Abbas. He wants to compromise but he's "worried about the terrorists behind him."
Matthews asked Chuck Todd to weigh in on Boehner's decision-making process up until now, which Todd said that the whole thing has become less about the House Speaker and more about the GOP "fighting for the soul of the Republican Party." He said if the Republican leadership "look like they're capitulating to any demand the president is making," they grassroots, tea party faction will "light the party on fire."
This led Matthews to his Israeli analogy. "This is the problem Israel has had all these years with the Arab side," he said. "It's not there aren't good people on the Arab side. It's that the good people on the Arab side don't call the shots and they're always worried about the terrorists behind him who would break the deal.
As an example, Matthews cited Abbas, who he described as a "reasonable person who wants a state and knows he has to have peace to get it." Similarly, he said people like Boehner "can't deliver on the deal."
"I'm worried here, as an American," Matthews continued. "I am worried that we're going to go into a cataclysm here that's worthy of us as a country."
The MSNBC host declined to take his analogy any further, but if Boehner is Abbas, then that would have to make President Obama Israeli Prime Minister Benjamin Netanyahu. And then, of course, it only follows that the tea party is Hamas.
Watch video below, via MSNBC:
[photo via screengrab]
— —
>> Follow Matt Wilstein (@TheMattWilstein) on Twitter
Have a tip we should know? tips@mediaite.com