Matthews Confronts Lady Who Tells Him To Do His Homework, 'Obama Is A Communist, Buddy'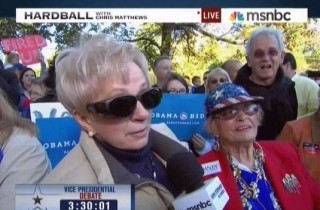 As MSNBC host Chris Matthews talked to people in the crowd outside the Danville, Kentucky location for tonight's vice presidential debate, he was interrupted by an older woman who insisted President Barack Obama is a communist and un-American. The host then confronted the random woman over what led her to believe such a thing.
While talking to a woman about why she supports President Obama for his health care policy, Matthews heard another woman shout "Communist!" and sought her out.
"What did you mean by that?" Matthews asked the lady.
"All you have to do is study it out. Just study it out. And you'll see," she said. "You haven't done your homework, buddy," she then accused of Matthews.
"What do I need to study?" he asked.
"He's a communist," she replied, "and those of us who are not voting for him know it."
"And what do you mean by 'communist'?" Matthews then asked.
"You don't know?"
"Just tell me. Help me out here."
"You don't know?" she said again.
"I just want to know what you mean," Matthews pressed.
"Oh, I know what I mean," she shot back.
"Well, help us out. You're on national television," the host said. He then asked her if she believes the president is an American.
"No," she flatly said. "Just because he was born here doesn't mean he thinks like us."
"He's a communist, buddy," she concluded as the crowd booed.
Watch below, via MSNBC:
— —
>>
Follow Andrew Kirell (@AndrewKirell) on Twitter
Have a tip we should know? tips@mediaite.com