Matthews Fearing Impending 'Climate Disaster': 'We're A Frog In The Pot,' 'All Of The Sudden, You're Dead'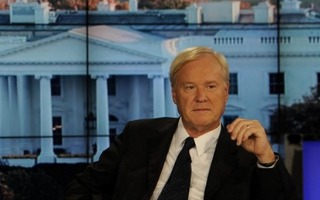 The hosts of MSNBC praised President Barack Obama's stark and blunt talk about the challenges the nation faces regarding climate change and the need to address this challenge in his inaugural address on Monday. Chris Hayes said that he thought the president's talk of "climate disaster," from fires to drought to storms, is the only way to create the impetus for sweeping reforms. Chris Matthews agreed, saying that we are all a "frog in the pot" when it comes to climate change. "All of the sudden, you're dead," Matthews noted.

RELATED: TIME Reporter: Obama's Background Lets Him 'Think In More Complex Terms,' 'Reach More Nuanced Positions'
"We are now on the frontier of climate disaster," Chris Hayes said. "We are seeing it now. It's not some abstraction in the future."
"For the president to invoke fires and disaster – the impact of raging fires, and crippling drought, and more powerful storms – is to communicate that what we're seeing now is the front edge of climate disaster," Hayes added.
He said that striking a tone of fear of the future, one that the president struck in his inaugural address, is the only way to create a consensus around the reforms Hayes believes are necessary to avoid climate change.
"Otherwise, we're just a frog in the pot," Matthews interjected. "As it reaches boiling temperature – 'oh, this is nice. This is still nice. This is okay. I can live with this.' Then, all of the sudden, you're dead."
Watch the clip below via MSNBC:
> >Follow Noah Rothman (@Noah_C_Rothman) on Twitter
Have a tip we should know? tips@mediaite.com