Matthews Goes After ABC's Jonathan Karl For Asking 'Jock Question' About Obama's Waning Political 'Juice'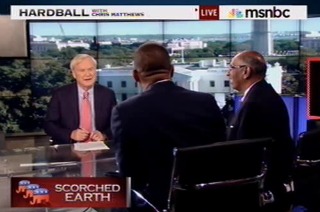 MSNBC host Chris Matthews took aim at ABC News Chief White House Correspondent Jonathan Karl on Thursday over the question he posed to President Barack Obama during his Tuesday morning press conference. Karl asking if Obama still had the requisite "juice" to see his second term agenda passed. On Thursday, Matthews said that he was not sure what Karl was referring to and asked if his panel guests if Karl was asking a "jock question."

Karl prefaced his question to Obama on Tuesday by noting that his efforts to marginalize Republicans on the issues of gun control and on the sequester had largely failed. "Do you still have the juice to get the rest of your agenda through this Congress?" Karl asked.
"Why, if you put it that way, Jon, maybe I should just pack up and go home," Obama replied.
RELATED: Limbaugh: 'Terrified' By Obama's Presser 'Disaster,' Media Pushing President To Be More Aggressive
During a discussion on Hardball on Thursday about the Republican Party's strategy of blocking Obama's legislative priorities in order to blunt his appeal to the broader electorate, the question of Obama's "juice" was raised by Washington Post columnist Eugene Robinson.
"When you're president of the United States, you do have juice," Robinson said.
"Was that an odd question," Matthews interjected. "It seemed like a jock question."
"It reminded me of O.J. or something – a jock question," Matthews said. "Or electricity juice." He noted, however, that Karl was probably referring to Obama's political clout.
"It was an appropriate question," replied former Republican National Committee Chairman Michael Steele. The former RNC chairman said that Obama did suffer some recent defeats and his political influence has suffered as a result.
Watch the clip below via MSNBC:
> >Follow Noah Rothman (@NoahCRothman) on Twitter
Have a tip we should know? tips@mediaite.com