Matthews Goes Nuclear On Conservative During MSNBC Panel: 'Here's The Idiot Republican Argument'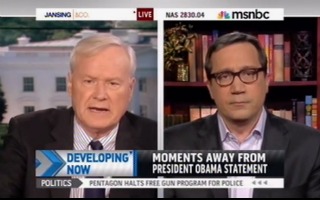 MSNBC host Chris Matthews took a swipe at President Barack Obama's reelection campaign on Friday, calling it 'pissant.' When a Republican panel guest agreed with much of Matthew's assessment but challenged his insistence that the American people want to hear the case for more government intervention into the economy, Matthews went on offense. "Here's the idiot Republican argument," said Matthews. "I feel like I'm teaching first grade."

RELATED: NY Times Buries The Lede: Anderson Cooper's Ratings Surge At 8PM
MSNBC host Chris Jansing asked Matthews how the President can adjust his campaign to be more "forward looking."
Matthews said that Obama can and should make the case for government intervention into an economy that is sluggish or too nervous about the future to make broad investments.
When business fails – as it's over the last ten years. It has failed. The private sector fell apart under President George W. Bush – it's a fact. The financial market fell down. The auto industry was dead on arrival. Everything has failed. The government has to act. When the consumer's uncertain and business is scared, the government has to act. Which it did when Obama came in and it hadn't done before that. He came in, took action, saved the auto industry, brought back the American economy with a big stimulus plan – took a lot of heat for it. But if the government hadn't acted, nobody would have acted. Because even to this day; business is afraid.

The consumer is holding onto his or her money. Nobody is really got the guts to spend some money now except the government. He's got to say, we've got to keep doing this. We've got to keep shouldering the responsibility to keep the American economy roaring again until everybody's back. He's got to say we've done the right thing; we're going to do more of it. If the Republicans would get out of the way, we could do a lot more.
Matthews continued with a fiery admonition of President Obama's reelection strategy thus far:
He's got to be aggressive. He's got to be big time. Stop this nickel and dime – a couple bucks for the teachers. A couple bucks for the firefighters. I'm going to reduce the payroll tax. This is pissant. You can't get reelected with tactics. He needs a strategy. Which is, we're different from the Republicans. They're basically free-marketers who sit around and wait for business to deliver this country from hell. Business has let us down.
At this point, former Deputy Press Secretary to President George W. Bush, Tony Fratto, interjected and said that he says the American people want the public sector to take the lead on the economic recovery.
Matthews interrupted, "it has failed, and it keeps failing." Matthews said that the private sector is conspicuously keeping money on the sidelines. Fratto retorted that the private sector will invest when they are certain there will be a return on that investment.
"Okay, here's the idiot Republican argument," said Matthews. "If you just give them a bigger tax cut than Bush gave them."
Fratto responded that he was not talking about tax cuts, but Matthews continued to attack Fratto while he refined his thought. Matthews said that he should travel to Asia and take a look at their high speed rail trains, "while we have Amtrak."
"I feel like I'm teaching first grade here," Matthews continued. "Business and the Republican party are the same thing."
"That's crazy," said Fratto.
"I don't know how you can deny the obvious," Matthews replied.
"Where were they in 2008," Fratto asked.
"Business supported Barack Obama? Yeah, right," Matthews responded.
Watch the segment below via MSNBC:
Follow Noah Rothman on Twitter
Have a tip we should know? tips@mediaite.com