Matthews, Guests Lament The Passing Of Era When Michele Bachmann Represented Reasonable GOP (COLUMN)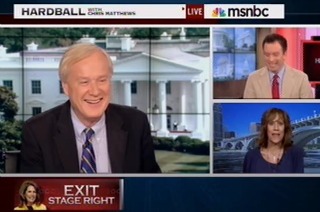 Here is a laughable truism of which conservatives are keenly aware: Republicans of the last generation are regularly viewed in retrospect by media elites as reasonable, moderate, sensible Republicans. That generation of bygone GOP statesmen, the liberal maxim holds, would be ashamed of their brash and imprudent successors. Most often, however, shrewd political analysts would allow a generation to elapse before submitting this tired observation. Or, at least, a couple of years. Maybe even one week. That discriminating approach to political punditry, it would seem, would require too much tongue-biting for Hardball host Chris Matthews. Less than 24-hours had passed since the center-left media's favorite punching bag, Rep. Michele Bachmann (R-MN), had announced her retirement when Matthew's panel guests sounded alarm bells over the new generation of Republicans set to take her place in the pantheon of GOP politicians ripe for liberal caricature.

Matthews opened the segment noting that many of the 2010 cycle's Tea Party representatives have lost their bids for reelection, resigned from office, or announced their intention not to seek reelection.
"I think that they look at their own, like, intellectual heft, and realize they don't have the chops, and so they gotta get out," opined The Daily Show co-creator Lizz Winstead.
She added that many of the bygone Tea Party leaders were intellectual ill-equipped to be effective legislators relating to issues like at "the financial crisis," "jobs," or "what's going on in foreign policy."
"They got elected on an emotional rage," Winstead concluded. "I think they realize that they absolutely don't have the skill set."
Matthews transitioned, noting that "Joe McCarthy seems to be reincarnated in [Sen.] Ted Cruz (R-TX)." The MSNBC host said he saw similarities between the two figures in both temperament and appearance. He added that Sens. Mike Lee (R-UT) and Rand Paul (R-KY) are becoming more frightening to him as they prepare to ascend to the top of the GOP pyramid.
"It seems almost like some sort of insect farm," Matthews observed, "where the bigger, badder insects are replacing the little ones."
Washington Post columnist Dana Milbank graciously responded to that comment without skipping a beat. "There is just an unending stream of goofiness," Milbank said. "But there is a darker strain here."
And then, though seemingly without awareness of the fact, Winstead offered up the strongest possible criticism of this very segment of political commentary. Far stronger and more succinct than anything I could muster.
"They never look at a problem with any sort of nuance," Winstead said, perfectly summarizing my reaction to this segment. "Everything is horrible. Everyone's motivation is ugly, and dark, and ruthless."
… It was as if, in that moment, she had found a window into my soul.
"The smirk is what gets to me," Matthews said, evidently also sharing Winstead's ability to peer into the deepest recesses of my subconscious. "This attitude of, like, I'm better than you. You're no good."
I am not the superstitious type, but the cosmic mind meld that occurred this day has shaken my faith in reason.
Watch this clip below via MSNBC:
> >Follow Noah Rothman (@NoahCRothman) on Twitter
Have a tip we should know? tips@mediaite.com