Matthews Has Epic Brawl With GOP Rep. for Holding Country 'Hostage' Over Obamacare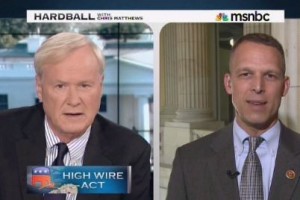 Chris Matthews got heated with Republican congressman Steve Perry on Thursday over the current government funding and debt ceiling fights in Washington. Matthews kept shouting at Perry to say at what other time in American history has the opposition party pushed so hard to repeal a law approved by Congress and the Supreme Court, essentially holding the country "hostage". They went back and forth a bit, until Perry got a little too personal with a barb directed at Matthews, at which point Matthews ended the interview and scolded him.
Matthews barraged Perry to give any kind of precedent for what the Republicans are doing. Perry slammed Obama for the tactic of just bashing Republicans instead of negotiating with them, adding "It's the same thing you use, Chris."
Perry went on to argue that prohibition and slavery were repealed, but Matthews shot back, "After it was tried and it failed!" They kept shouting over each other, with Matthews accusing Perry of blatant partisanship and Perry flipping it back on him. At one point while Perry spoke, Matthews just kept going "No, no, no, no, no, no…"
Matthews brought up the list of demands Republicans have to raise the debt limit, saying they're crazy and "it looks like it's written by the oil industry." Perry shot back, "I'm surprised you read any of it, first of all." And that's when Matthews snapped.
"You know what you can do with that? You can be excused, because you just accused me of not doing my job, and that's a big mistake here.

"Congressman, thank you for coming on, I mean it, I wish you hadn't made that last remark, I think it was a cheap shot. Scott Perry, it was cheap, don't laugh."
Watch the video below, via MSNBC:
[photo via screengrab]
— —
Follow Josh Feldman on Twitter: @feldmaniac
Have a tip we should know? tips@mediaite.com
Josh Feldman - Senior Editor