Matthews Insists The Fact That Obama Steers Clear Of MSNBC Proves Network Not Biased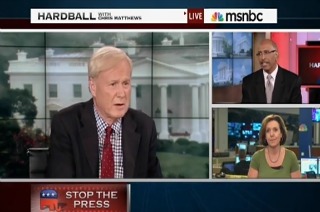 On Tuesday, MSNBC host Chris Matthews tore into Republican National Committee Chairman Reince Priebus over his ultimatum to CNN and NBC to drop their planned docudramas about the life of Hillary Clinton or lose access to Republican 2016 debates. He insisted that Priebus has no way of knowing now whether NBC's Clinton miniseries will be anything other than fair. Furthermore, Matthews debunked the notion that his network has a pro-Barack Obama editorial bias by highlighting the fact that the president has never appeared on MSNBC.

Matthews began the segment by inventing the substance of NBC's planned Hillary Clinton miniseries which he insisted would tackle a variety of subjects that were likely to cast the Clintons in an unfavorable light. He then asked former RNC Chairman Michael Steele how the scenario he created could possibly help Clinton in a potential 2016 presidential bid.
RELATED: Reince Priebus' Ultimatum To NBC, CNN Displays Deep Denial About GOP's Dire Prospects
"From a certain standpoint, it doesn't," Steele, left without any other options, replied. "That's the problem with coming out before the video, the documentary, the film is even produced, or the script written."
Matthews decided that CNN's planned documentary on Clinton is also likely to tackle issues that are less-than-favorable to the former first family.
Both Matthews and Salon.com Editor at Large Joan Walsh agreed that, "if you're really an honest person," neither proposed docudramas are going to help shape Clinton's image favorably ahead of a potential presidential campaign.
"By the way, those who talk about the tight relationship between MSNBC and Barack Obama, for example, count the number of times he's been on this network," Matthews insisted. "Zero."
"He agrees with us and we agree with him sometimes," Matthews added when lightly challenged by Steele. "I actually have my views and he tends to coincide with them."
This admission says a lot about both Matthews' network and the president, but they're not things that Matthews probably intended to say.
Watch the clip below via MSNBC:
> >Follow Noah Rothman (@NoahCRothman) on Twitter
Have a tip we should know? tips@mediaite.com