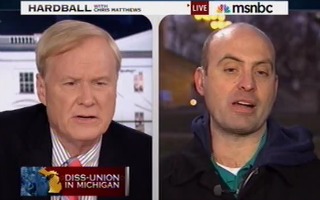 On Tuesday, MSNBC's Chris Matthews conducted a side-by-side interview with both a representative from both the labor union United Auto Workers and Americans for Prosperity, a conservative interest group. While Matthews conducted a policy-based interview with the UAW representative, he hammered the AFP representative solely on his relationship to the libertarian activist Koch Brothers.

"This is pretty much a union-gutting operation," Matthews opened his line of questioning. "You work for the Koch brothers. They don't like unions. Why are you working for them."
"I work for Americans for Prosperity," replied AFP representative Scott Hagerstrom. "This is not about the Koch Brothers."
"Who's paying your salary," Matthews pressed.
"Americans for Prosperity," Hagerstrom answered, attempting to pivot to policy.
"Who's that," Matthews asked. "You're not answering my question."
"I came here to talk about policy," Hagerstrom protested.
"I know, and I want to know why," Matthews shot back.
Hagerstrom opened up about his background as a lifelong resident of Michigan and his frustration with the trajectory of the state's finances. Matthews turned to the UWA representative for his thoughts on whether Hagerstrom was a "front" for the people "who really don't like unions."
"Who is paying you," Matthews insisted. Hagerstrom replied that AFP's donors supply him with gainful employment.
Matthews closed the interview asking, for the fifth and sixth time, who pays Hagerstrom's salary.
"I told you, Americans for Prosperity," Hagerstrom replied with instantly recognizable exasperation.
"And who's that? That's the Koch Brothers," Matthews insisted. "I think you guys are working for the Koch Brothers and you're not denying it."
"Things have to change," Hagerstrom charged. "I understand unions have captive members…"
"No, you look like the captive here," concluded Matthews .
Watch the clip below via MSNBC:
> >Follow Noah Rothman (@Noah_C_Rothman) on Twitter
Have a tip we should know? tips@mediaite.com