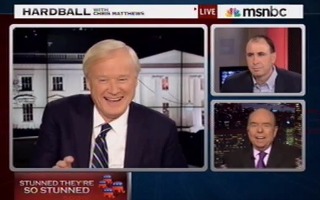 In a discussion about the demographic problems facing the Republican party, Chris Matthews and his guests veered off into a discussion about the "monochromatic" racial makeup of the Republican National Convention's attendees. Excuse for the moment the fact that a cable news network determined that it was solid programming to devote several minutes to a three-month-old event. Matthews took the opportunity to mock the Republican party's convention attendees for their racial backgrounds, and to charge mockingly that Republicans are intimidated by the prospect of large gatherings of minorities.

Matthews jumped off the subject the Republican party's problem with non-white minority voters in the last election to praise the Democratic National Convention's racially diverse attendance. He said that the convention in Charlotte in September looked "wild," "interesting" and "like America."
Democratic strategist Bob Shurm agreed and said that the only time a camera could catch a glimpse of a racially diverse audience at the Republican's nominating convention is when the party had selected a minority speaker to address the crowd.
"The fact of the matter is that you have a whole bunch of entitled Republicans who think they should own this country – some of them on the grounds of race, some of them on the grounds of wealth," Shrum said.
"You can be a minority at the Republican convention, you're just not encouraged to gather," Matthews joked. "You're not supposed to get together too much. It concerns them."
Watch the clip below via MSNBC:
> >Follow Noah Rothman (@Noah_C_Rothman) on Twitter
Have a tip we should know? tips@mediaite.com