Matthews Links GOP's Resistance To Gun Control With Violence Committed By The Aryan Brotherhood
Matthews Links GOP's Resistance To Gun Control To Violence Committed By Aryan Brotherhood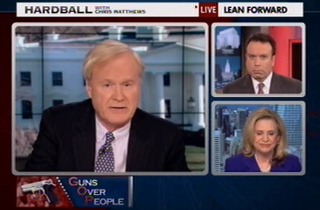 During an interview on Wednesday with Rep. Carolyn Maloney (D-NY), MSNBC host Chris Matthews observed a connection between recent threats that her Manhattan office has received with a statement made in 2010 by Sharron Angle, a Republican Senate candidate in Nevada who failed to unseat Sen. Harry Reid (D-NV). Angle infamously said at the time that many frustrated voters are looking to "Second Amendment remedies" to curtail the expansion of the federal government. Matthews linked that statement to the violent white supremacist prison gang, the Aryan Brotherhood, and observed that it is unlikely that any of those gang members ever cast a vote for President Barack Obama.

RELATED: Former Prisoner: 'For-Profit' Prisons Churning Out Waves Of Violent White Supremacists
In the interview with Maloney, Matthews noted that she had recently received death threats which he said are linked to her support for stronger gun laws in the wake of the massacre at Sandy Hook.
He played a portion of a speech delivered by Angle which she delivered during her bid for the U.S. Senate. "If this Congress keeps going the way it is, people are really looking toward those second amendment remedies," Angle said in January, 2010.
"That's what you're being threatened with," Matthews said to Maloney. "They don't like the way you're going so they're threatening you with their Second Amendment remedies, which is gunplay."
"This is verbatim here," Matthews added. "This isn't arguable. This is the way these right-wingers talk now, and I think other people are beginning to act that way."
Matthews than turned to the recent murder of law enforcement officials in Colorado and Texas which have unconfirmed links to the white supremacist prison gang, the Aryan Brotherhood.
"We haven't had these cases closed out west, but a prosecutor has pulled herself out of a case against the Aryan Brotherhood of Texas," Matthews said. "You can bet none of those characters ever voted for Obama."
"We have a revolution every two years," Maloney said in response. "We can shoot at the ballot box."
Watch the clip below via MSNBC:
> >Follow Noah Rothman (@NoahCRothman) on Twitter
Have a tip we should know? [email protected]