Matthews Hopes New Pope Reforms Church: 'We Got Meat On Fridays, We Would Have Rather Had Birth Control'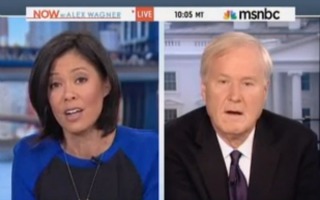 On Monday, MSNBC host Chris Matthews and Washington Post columnist E.J. Dionne joined MSNBC's Alex Wagner to discuss what the future holds for Catholics in the wake of the surprise resignation of Pope Benedict XVI. Matthews was asked whether the Catholic Church could enjoy a new era of progressivism under a new Pope. He replied that he did not see major reforms of Catholic doctrine on the horizon, but he hoped the church would abandon its opposition to birth control as a means of making abortions more infrequent.

RELATED: Pope Benedict XVI To Resign This Month
"Let's talk about the doctrine of the Catholic Church at this point," Wagner began. "Folks thought Benedict would end up being more conservative than he actually was. That said, I'm sure there are a lot of liberal Catholics in the United States that were looking to him for more guidance."
"He came out against gay marriage, but he had a fairly progressive stance on poverty," Wagner opined. "There was this kind of constant tension between where the church could go on some of these social issues."
"Do you think that changes?" Wagner asked Matthews. "Do you think we look forward to a slightly more progressive doctrine going forward?"
Matthews said that he would have to address that question as a layman in "political, secular terms." He said that the church has not been especially progressive since Pope Paul VI ushered in reforms during his tenure in the Vatican in the 1960s and 1970s. "We got meat on Friday, we would have rather had birth control," Matthews said.
"When the pope came out and made birth control a sin and stuck to that policy – even in this age we live in now — I think they lost a lot of people," Matthews said. He added that the church's clergy do not "ever, ever" deliver sermons on birth control.
"Because the church knows that people who are most faithful to the church – not all of them of course – use birth control," Matthews said. "That's part of a loving marriage."
"The church has not really thought through that relationship," Matthews said about the Catholic Church's position on marriage. He said he would like to see the church relax its opposition to birth control because it is one of the best ways to reduce the incidences of abortion.
"In the churches failure to push birth control, or even allow for it morally, they have really held back one of the ways to reduce this prevalence now of the use of abortion as birth control," Matthews concluded.
Watch the clip below via MSNBC:
> >Follow Noah Rothman (@NoahCRothman) on Twitter
Have a tip we should know? tips@mediaite.com