Matthews On Obama's Gay Marriage Statement: The 'Wolves Coming Out,' Will 'Make It A Religious Issue'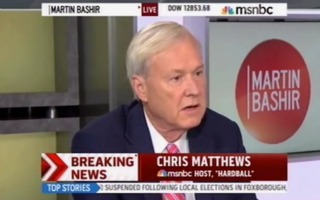 MSNBC Anchor Chris Matthews appeared on Martin Bashir Live on Wednesday to discuss the political impact of President Barack Obama's expression of support for gay marriage. He said that Obama moved the nation forward in the "long march towards liberalism in this country," but that there is a gathering "army" of "wolves" that are "probably giggling with delight over how they're going to use this" against Obama in the election.

RELATED: Foulball: Chris Matthews Invokes Republican 'Grand Wizard Crowd,' Then Takes It Back
"It's earth-shaking," said Matthews. "The world will hear this within minutes. The President of the most important country in the world has endorsed men of the same – people of the same sex marrying each other. This is the first time we've seen this. No electorate in this country has ever endorsed it. No state – even in California, which seems to be the most avant-garde– they haven't endorsed it. We saw that with Prop. 8. For the president to do this is just earth-shaking, earth-shaking."
Matthews went on to say this is a good move for the President, appealing to gay Americans. However, he says that opponents of President Obama will come out in force to politicize his decision to endorse gay marriage.
This is a dramatic statement. But in the same second, we're saying this: the wolf layers are opening up. The dens are opening; the gates are opening of wolves coming out for this. The Karl Roves, the people who will use this against the president in states like North Carolina, in Pennsylvania. They will use it from the pulpit. They'll make it a religious issue. They will use it to go to communities, black and white. Working-class whites. Very evangelical black Americans – they will do everything they can to exploit this.
Bashir interjected, "you're suggesting that this is going to redound negatively for the president…"
"There will be a major effort for that to happen," said Matthews. "I don't know how the American people will react – whether this will be a voting issue or not. I know this is an earth-shaking statement positively for the president for everyone that is gay. They now have the president on their side for something that is important, which is love."
Matthews said that this is good news "for everybody in this country, in terms of freedom and the long march towards liberalism in this country." He said that there should be an effort "towards freedom in this country – it's always been forward leaning, as we say on this network actually."
He continued, saying that the enemies of progress will coalesce in force to oppose the President's statement.
"There's always been this other army out there that feeds on those who resent it," said Matthews. "That army was out there during Jim Crow, during Abolition. During Suffrage. There is always an army that feeds on change and feeds against it. The wolves. And they're being released right now – and they're probably giggling with delight over how they're going to use this."
Watch the segment via MSNBC below:
Have a tip we should know? tips@mediaite.com