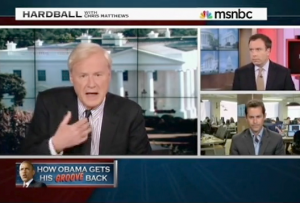 Mark 2013 as the year practically everyone and everything turned on President Obama, because from the NSA scandal to Syria, the White House has been constantly barraged with scandal and controversy, and their handling of events hasn't exactly been that adroit. Case in point, Chris Matthews took Obama to task on Wednesday for being too "reactive" to events and not controlling or focusing the discussion on issues he wants to talk about. Washington Post reporter Dana Milbank agreed, saying that there is a deficit of "forceful leadership" from the Obama White House.
In fact, Milbank even went so far as to credit George W. Bush for this quality sorely lacking in Obama. At least with Bush, Milbank argued, "he got stuff done, hammering away for taxes, for war… whereas Obama sort of flits and flies from topic to topic." Matthews wished Obama would be tougher against Republicans on key issues, while HuffPo's Sam Stein noted Obama's pushed a little, but not quite enough.
Matthews vented a little, saying "this Mini-Me stuff has got to stop." Milbank said Obama's political nuance looks too much like "muddled thinking" to people, suggesting he needs to start campaigning for big issues with bumper-sticker slogans. Stein made it clear part of the lack of action in Washington is derived in part from Republican obstructionism.
Matthews wistfully looked back on how forceful Obama used to be, concluding that he has to go back to that and not get caught up in current events.
Watch the video below, via MSNBC:
[photo via screengrab]
— —
Follow Josh Feldman on Twitter: @feldmaniac
Have a tip we should know? tips@mediaite.com
Josh Feldman - Senior Editor