Matthews Panel Looks To 2016: Biden Seriously Considering Running For President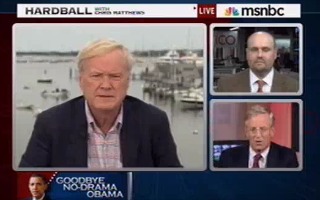 On Monday, MSNBC host Chris Matthews invited Politico reporters Glenn Thrush and Evan Thomas on his program to discuss a new e-book detailing the goings on in Barack Obama's White House amid a contentious campaign season. In the interview, the authors revealed to Matthews that Vice President Joe Biden is undeterred by his gaffes. They claim that he is prepared to seek his party's nomination to succeed President Obama in the Oval Office in 2016.

RELATED: American Crossroads 'Endorses' Biden In New 'Run, Joe. Run' Ad
In Obama's Last Stand, Thrush outlines how seriously Vice President Biden is taking his political career and how he views his recent gaffes as temporary impediments to his political ambitions. Those ambitions, Thrush concludes, may only be satisfied if Biden wins the presidency in 2016.
The authors claim that the White House is not happy with Biden's gaffes, but they say that the Vice President does not view his chronic misstatements as an impediment to his political advancement.
"The Vice Presidency still has some currency," said Thrush. "And Biden has had a pretty, with the exception of all the gaffes and the Saturday Night Live moments, he's had a pretty good run of it."
Thrush says that Biden has always had and continues to have a "first class staff," that could facilitate another presidential campaign.
"Are they ambitious for him to run," asked Matthews. Thrush was not sure if he did, but he was certain that Biden definitely has "the twinkle in his eye."
Thrush claims that Biden has lost some influence with the President, notably when he came out in favor of gay marriage ahead of Obama. In fact, Biden was advising the President not to publicly support same sex marriage rights right before he came out in favor of it himself.
"We focus so much on the externals with Biden, this is a guy who is really making some noises internally," said Thrush.
The e-books authors and Mathews then discussed the preparations that Biden and Sec. Hillary Clinton are making for a potential run against each other in the 2016 Democratic primaries.
Thrush says that she is "tired" and uninterested in the contest that she would have to wage against Biden for the Democratic party's presidential nomination. However, Thrush concede that, if Clinton wanted the nomination that badly, he thinks Biden would defer to the Secretary of State.
Watch the segment below via MSNBC:
> >Follow Noah Rothman (@Noah_C_Rothman) on Twitter
Have a tip we should know? [email protected]