Matthews: Press On Obama's Side Because Wall Street People Make More Than Reporters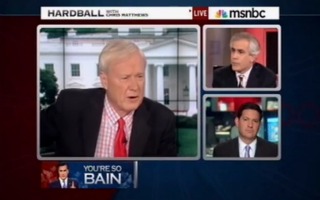 During a discussion on MSNBC's Hardball with Chris Matthews on Monday, author Mark Halperin and Matthews debated a potential presidential debate on Republican candidate Mitt Romney's tenure at the private equity firm Bain Capital. Halperin said that the press is going to be "sympathetic" to President Barack Obama's narrative on Bain, to which Matthews asked if he thought "reason the press is on Obama's side against Romney – besides sometimes partisanship obviously –is fact that equity people make sometimes 20 or 30 times a year what newspaper people make?"

RELATED: Awkward: Obama Excuses Chris Matthews During Panel With Latin American Presidents
Matthews wondered whether President Obama was equipped to debate with Mitt Romney on his tenure at Bain, given that it is possible that the former Massachusetts governor knows more about the details of his tenure with the private equity firm.
"I wonder if the President can handle this debate. If he gets into a debate for an hour and a half this fall with Romney, who knows all the thickets and jungle work – he was in there. He knows every dollar he lost, every deal he made. How does Obama get in there and debate him on his own turf," asked Matthews. "How can he possibly know as much as Romney does as to how he did or didn't make money?"
"I don't think he needs to," said Halperin. "The press – this is one of these instances where the press is very sympathetic to the Obama narrative on Bain and not all that sympathetic to governor Romney."
"Governor Romney needs to make an argument so compelling that it finds an audience in the press – if he can do it – and an audience with the public," Halperin continued.
Matthews interrupted Halperin to ask, "do you think the reason the press is on Obama's side against Romney – besides sometimes partisanship obviously –is fact that equity people make sometimes 20 or 30 times a year what newspaper people make?"
"Not necessarily what TV people make," Halperin responded.
Watch the exchange below via MSNBC:
Have a tip we should know? tips@mediaite.com