Matthews Slams Anyone Denying GOP Attacks On Obama Are Racist: 'You're Dead Wrong' And 'Dangerous'
Matthews Slams Anyone Denying GOP Attacks On Obama Are Racist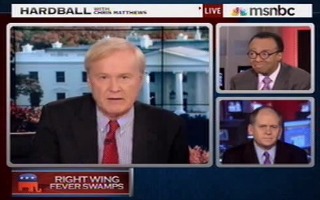 On Wednesday, MSNBC host Chris Matthews tackled a variety of, what he views as, persistently racial memes and insensitive attacks directed at President Barack Obama from the right. After detailing a series of attacks on the president from a number of prominent Republicans, Matthews chastised those who criticize him for seeing racism in questionable places. He said that those who disagree with him on that matter are "dead wrong" and "dangerous."

RELATED: Chris Matthews: If I'd Been A Politician, 'I Would Be One Of The Stars Of The Democratic Party'
Matthews began by noting to syndicated columnist Clarence Page that the "blatantness" of the racial antipathy towards Obama on the right "went through the roof" after former Republican vice presidential candidate Sarah Palin posted on her Facebook that "Obama's shuck and jive ends with Benghazi lies."
"A dog whistle is a dog whistle," Matthews said to Page. "A trumpet call is another."
Page said that the derivation of that term is questionable and there are innocuous uses for that term, despite its origins in the antebellum South. He thought the bigger error on Palin's part was jumping to conclusions about the incident in Benghazi.
Matthews did not agree. "When you keep doing this stuff like — look at this Thompson, the kid of Tommy Thompson," Matthews said. "I got nothing against Tommy Thompson, but he's raising his kids wrong." He said that Thompson's son's joke about sending Obama back to Kenya was inflammatory. Matthews also said that Donald Trump saying that Obama was "monkeying with the unemployment numbers" had a negative racial connotation as well.
Bloomberg View columnist Jonathan Alter said it was clear these and other attacks on Obama from the right amount to "rank racism."
"Shuck and Jive, that's like talking about watermelon or, for Jews, talking about Jews are greedy or Irish are drunk — these are racist tropes and we need to call them what they are," said Alter. He said that Trump's demand for Obama's college transcripts on Wednesday was also racist. "He's basically saying Barack Obama was too stupid to be at Columbia because he was an affirmative action student."
"It's racist," said Alter.
"Anybody out there, by the way, thinks were saying things over and over again. And if you think we're saying things, you're dead wrong and you're dangerous," said Matthews.
Finally, after playing a clip of Mitt Romney surrogate John Sununu saying that he wishes someone would teach the president "how to be an America," Matthews admonished white people in general.
"As a white person, I think it's a statement against the white people to talk like this," said Matthews. "It's a sickness by the white people. Anyway, they ought to be ashamed of themselves."
Watch the clip below via MSNBC:
> >Follow Noah Rothman (@Noah_C_Rothman) on Twitter
Have a tip we should know? tips@mediaite.com