Matthews Speculates About 'Far Right,' Anti-Tax, Anti-Kennedy Terrorism Behind Boston Marathon Attacks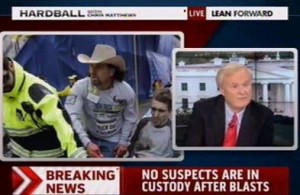 During Monday afternoon's edition of Hardball, with information about the perpetrators of the Boston marathon bombings scant at best, Chris Matthews speculated on multiple occasions about the possibly "far right" forces behind the attacks.
While speaking with counterterrorism expert Michael Leiter, Matthews posited that "normally domestic terrorists, people, tend to be on the far right" before dialing back his speculation to say: "That's not a good category, just extremists, let's call them that."
A minute later, while discussing the additional "bombing" at the city's John F. Kennedy presidential library (which turned out to be a fire unrelated to the attacks), Matthews began to suggest this could be the doing of anti-Kennedy, anti-Democratic Party forces:
"Going after the Kennedy Library, not something at Bunker Hill, not something from the Freedom Trail or anything that kind of historic, but a modern political figure of the Democratic Party."
"Does that tell you anything?" he asked Leiter, who promptly rejected such speculation.
Later on in the show, Matthews suggested that Monday being Tax Day could possibly have played a role in the bombings. "So many iconic days — it's Patriots Day, it's the Marathon Day, it's the Kennedy Library always up there. And also as you point out — I just forgot because I filed already — that it's filing day for the federal income tax, which does cause some emotions around the country, sometimes in the wrong parts of the brain," he said.
Watch both clips below, via MSNBC:
— —
>> Follow Andrew Kirell (@AndrewKirell) on Twitter
Have a tip we should know? tips@mediaite.com