Matthews Takes Break from Calling Opponents Racist to Lecture America on Civility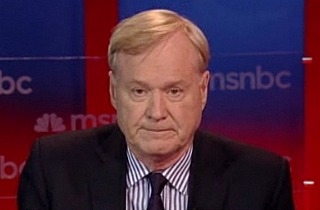 Okay, that headline is a little misleading. MSNBC host Chris Matthews never really took a break from calling his opponents racists and paranoids while engaging on a media blitz promoting his book about civility and amity in politics.
Matthews is presently touring the media universe and recalling the history which he was privileged to witness and record in his new book, Tip and the Gipper: When Politics Worked. The theory is that politics in the nation's capital used to end at 6 o'clock when bitter partisan rivals would drop their disagreements and have a friendly scotch together.

That era of comity, Matthews submits, is gone. Exploring this theme in The Boston Globe on Friday, Matthews cites the wisdom of former House Speaker Tip O'Neill's chief counsel, Kirk O'Donnell, to explain why Washington worked in the 1980s but fails so spectacularly today.
"It was Kirk who not only taught me the rules of politics, but, just as important, that there are rules," Matthews writes. "I believe Speaker O'Neill and President [Ronald] Reagan honored that truism to a T."
When I first met the conservative hero — he had come to Capitol Hill to give an early State of the Union — I tried breaking the ice. "Welcome to the room where we plot against you," I offered. "Oh no," Reagan countered. "It's after six. The speaker told me that here in Washington we're all friends after six."
"Critics can say what they will to diminish the importance of that sentiment," Matthews continues. "I believe it masks a far deeper value. It said that after all the fighting, all the battling of left and right here in this country, we're in this thing together. In the end what matters is the system of self-government itself. It's what gives us the chance to make things better."
This is an important sentiment and Matthews is correct that it has faded from relevance in recent years. Many on the grassroots right and left, and some in Washington like Sen. Ted Cruz (R-TX), have no apparent need for what they denigrate as the "professional wrestling" aspect of politics.
In this sense, Matthews is right; the period in which politics was characterized by pugnacity on the legislature floor but concord when the cameras were off is slipping away. However, Matthews is probably the single worst person to remind the public of this fact, considering all he has done in the past several years to exacerbate tensions, smear his political foes, and dishonestly delegitimize their ideas.
RELATED: 'I'm Not Paranoid': Matthews Says GOP'ers Calling Obama 'Obama' Attempt to 'Delegitimize' Him
"Maybe 10%," or "maybe 20%, on a bad day," Matthews said in May when asked by MSNBC host Al Sharpton how much conservative opposition to President Barack Obama is rooted in racism. "It's the sense that the white race must rule, that's what racism is, and they can't stand the idea that a man who's not white is president," he clarified.
They're "almost traitors," Matthews said of conservatives who believe that the Internal Revenue Service, an agency created in 1913 and which recently admitted to targeting conservative groups in order to limit their political efficacy, should be abolished. "First of all, the right-wing are crazy," he said in June. "What they're saying about getting rid of the IRS is insane."
"It seems there's a very interesting compelling continuing effort to delegitimize this president," the MSNBC host added in August. His evidence: conservatives who refer to Obama as "Obama."
They refer to him as 'Obama.' They don't say the 'the president.' They don't say the 'a law.' They don't even speak the language we normally speak in civilized political debate."
"When are we going to have the book we've been waiting for, Killing O'Reilly?" Matthews said in October, jokingly envisioning the assassination of a rival cable news host with whom he disagrees. This moment was particularly satisfying. Matthews made this statement while appearing on HBO with Bill Maher to promote his book on civility.
"I think it's hatred," Matthews opined while summarizing the thinking that motivates conservatives in Congress this week. "I don't think it's politics." Just yesterday, perturbed with conservatives who dare refer to themselves as "the American people" while justifying their opposition to the president's programs, "Do they still count blacks as three-fifths?"
And Matthews is no backwater host with a miniscule audience. He's a powerhouse. On Tuesday night, Fox News Channel shocked the cable world by besting its rivals CNN and MSNBC in both the demo and total viewers combined. But the buried lede on that night was the fact that Matthews beat all his fellow MSNBC hosts – also, in both total viewers and the demo. He did the same on Monday and Wednesday of last week.
Matthews is giving MSNBC's audience what they want: a license to entirely dismiss their political adversaries. Conservative arguments are not made in good faith and, thus, they are not worth seriously considering much less internalizing. All the while, MSNBC hosts and contributors project with regular accusations that conservatives exist in an "amazing, expanding bubble" of "fake news."
Yes, the era of comity in Washington is dead. Chris Matthews, and those who aspire to mirror his brand of political commentary, helped to kill it. The fact that he appears genuinely unaware of this is both rich and damning albeit not especially surprising.
[Photo via screen grab ]
— —
> >Follow Noah Rothman (@NoahCRothman) on Twitter
Have a tip we should know? tips@mediaite.com