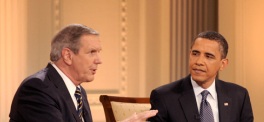 ABC's long-debated, much-hyped (although mostly negatively) special "Questions for the President: Prescription for America," finally aired last night, and unlike NBC's "Inside the White House" special last month, it did not see strong ratings from an exclusive broadcast from 1600 Pennsylvania Avenue.
The ABC special was criticized by the RNC, for days before it even aired, as an "infomercial" for Pres. Barack Obama. With the poor ratings, it could have been helped by a ShamWow-like pitchman.
The special finished 4th in the timeslot, far behind a CSI: NY repeat among other new programs, in both Total Viewers and the A18-49 demo.
The one positive note was Nightline a half-hour later, also live from the White House, which topped NBC's Tonight Show and CBS' Late Show.
Was the special's low viewership due to a backlash, thanks to the campaign waged by the RNC and other conservatives? Probably not. In the end, it would be difficult to argue Charlie Gibson and Diane Sawyer provided an unabated platform for the President's plan. There were pressing questions, audience interaction that involved some stumbling by Obama and some genuine Gibson-Sarah Palin like moments (the "questioning glare").
The problem, instead, was it just wasn't exciting enough. Health care, no matter how exclusive or promoted, is not the type of issue that gets the masses fired up. The Shamwow guy could have helped, but if he's pitching a product that just doesn't cut it – unlike the Magic Knife! – the audience will not come.
For all the GOP hysteria, this was not an infomercial. For ABC, it would have been helped to have been a little more like one.
Have a tip we should know? tips@mediaite.com