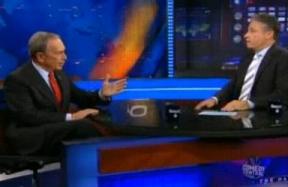 It was a jam-packed week of guests for The Daily Show – from Blago on Monday to Brian Williams Tuesday to New York City Mayor Michael Bloomberg last night.
Bloomberg is one of the staunchest defenders of the Islamic Cultural Center near the future site of One World Trade Center (or "Ground Zero Mosque") and he laid out his reasoning in the context of…a defense of Glenn Beck.
Mayor Bloomberg's main point: "It's just not the government's business to tell you what to say."
And drawing on Stewart's previous segment about Beck, he made an analogy. "You went on and on about Glenn Beck," said Bloomberg. "He has a right to say anything he wants, that's what's great about America."
It's an interesting argument – a sort of first amendment absolutism that Beck's opponents and Islamic Cultural Center defenders may disagree with.
Bloomberg also laid out the scene around the neighborhood for those who may not be particularly familiar with the area: "There's already a Mosque down there, within four blocks of the World Trade Center, there's porno places, there's food places, I mean it's a vibrant community, it's New York."
Bloomberg is Chairman of the board of the World Trade Center Memorial, and he says the board is "100% in favor" of the plans. He closed the interview as very few do in any interview – telling Stewart "thanks for standing up for what's right."
It certainly was a reasonable, rational discussion, and very different from the shout-fests both sides can devolve into on cable news. Which lucky network has Bloomberg on Sunday morning?
Here's the interview:


—–
» Follow Steve Krakauer on Twitter
Have a tip we should know? tips@mediaite.com