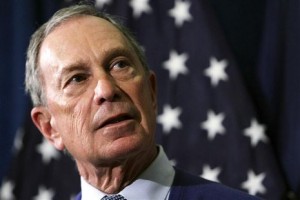 New York City mayor Mike Bloomberg has officially endorsed President Barack Obama, taking to his website to spell out why he believes the incumbent President should serve another four years in the White House.
Noting the devastation caused by Hurricane Sandy this week, Bloomberg expressed concern that our climate "is changing." And, he continues, "while the increase in extreme weather we have experienced in New York City and around the world may or may not be the result of it, the risk that it might be – given this week's devastation – should compel all elected leaders to take immediate action."
President Obama, he adds, is just the person to do take that kind of action:
President Barack Obama has taken major steps to reduce our carbon consumption, including setting higher fuel-efficiency standards for cars and trucks. His administration also has adopted tighter controls on mercury emissions, which will help to close the dirtiest coal power plants (an effort I have supported through my philanthropy), which are estimated to kill 13,000 Americans a year.

Mitt Romney, too, has a history of tackling climate change. As governor of Massachusetts, he signed on to a regional cap-and-trade plan designed to reduce carbon emissions 10 percent below 1990 levels. "The benefits (of that plan) will be long-lasting and enormous – benefits to our health, our economy, our quality of life, our very landscape. These are actions we can and must take now, if we are to have `no regrets' when we transfer our temporary stewardship of this Earth to the next generation," he wrote at the time.

He couldn't have been more right. But since then, he has reversed course, abandoning the very cap-and-trade program he once supported. This issue is too important. We need determined leadership at the national level to move the nation and the world forward.

I believe Mitt Romney is a good and decent man, and he would bring valuable business experience to the Oval Office. He understands that America was built on the promise of equal opportunity, not equal results. In the past he has also taken sensible positions on immigration, illegal guns, abortion rights and health care. But he has reversed course on all of them, and is even running against the health-care model he signed into law in Massachusetts.
In addition, Bloomberg shares that, when he steps into the voting booth, the thinks "about the world I want to leave my two daughters," heralding Obama's pro-choice platform, new commitment to marriage equality, and concern for climate change.
"Of course," he writes, "neither candidate has specified what hard decisions he will make to get our economy back on track while also balancing the budget." However, "what matters most," is achieving "bipartisan solutions," particularly where Congress is concerned. The Mayor concludes by expressing hope that the President listens to people on both sides of the aisle in appeal to moderates.
Have a tip we should know? tips@mediaite.com