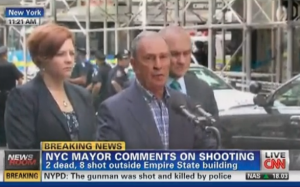 New York City Mayor Michael Bloomberg held an impromptu press conference alongside NYPD Commissioner Ray Kelly to address Friday morning's shooting at the Empire State Building. The gunman was identified as 56-year-old Jeffrey Johnson, who was targeting his former coworker.
Bloomberg said, in addition to Johnson, one other person was killed, Johnson's 41-year-old former coworker. At least nine others (two women, seven men) were shot, and some "may have been shot accidentally by police responding." The mayor said New York City is the "safest big city in the country" but "not immune to the national problem of gun violence."
Kelly then took the podium to offer some details. Johnson, "a disgruntled former employee" killed this former coworker, "striking him three times" with a 45-caliber handgun. Two officers approached Johnson when he fired at the officers, who returned fire and killed him.
The nine others shot "all are not likely to die," Kelly said.
Johnson worked at Hazan Imports as a designer of women's accessories. During downsizing about a year ago, Johnson lost his job. The company is local and not located in the Empire State Building, according to Bloomberg.
The area around the building "remains an active crime scene," Bloomberg said. No children or elderly people were shot.
The incident has "nothing to do with terrorism," Bloomberg said.
Toward the end of the presser, he said further details are unknown as there's an ongoing investigation into the shooting — adding, "Once again, there's an awful lot of guns out there."
The presser below, via CNN:

Have a tip we should know? tips@mediaite.com