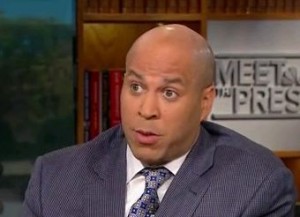 Newark Mayor Cory Booker sat in on today's Meet the Press panel, and during a long discussion on the economy's impact on the 2012 presidential election, Booker made it clear he thinks the election should be focused on the economy and not on "nauseating" "crap" that has been dominating the news cycles recently. He condemned not just the Republicans' attacks on Reverend Wright, but Democratic attacks on private equity firms to hit Mitt Romney.
RELATED: This Exists: Chris Christie And Cory Booker Team Up For Jersey Rivalry Comedy Sketch
David Gregory observed that the attacks against Romney now are trying to make him out to be a real-life Gordon Gekko of sorts. Booker said he's been in contact with the White House and working with the Obama reelection team, and he's been keeping the focus on the president's economic and health care accomplishments.
Booker then made it quite clear he has no patience for the kind of attacks being thrown around by both parties in the presidential race.
"This kind of stuff is nauseating to me on both sides. It's nauseating to the American public. Enough is enough. Stop attacking private equity, stop attacking Jeremiah Wright. This stuff has got to stop, because what it does is it undermines, to me, what this country should be focused on. It's a distraction from the real issues. It's either going to be a small campaign about this crap, or it's going to be a big campaign, in my opinion, that the American public cares about."
Watch the video below, courtesy of NBC:
Have a tip we should know? tips@mediaite.com
Josh Feldman - Senior Editor