Mayor Mike Bloomberg Discusses $127 Million Plan To Help NYC's Black And/Or Latino Male Youth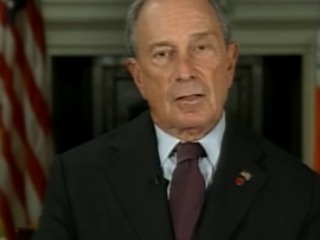 New York City mayor Mike Bloomberg has announced a $127 million, three-year plan aimed at "reducing disparities" among young black and Latino men (And, we presume, young men who are both black and Latino. Why do we keep discussing "Latino" as if it's a race? JESUS CHRIST.) and the "rest of" the city's population by, for example, creating job recruitment centers near housing projects and establishing school progress reports that would specifically track Latinos and/or black students. Mayor Bloomberg will give $30 million to the plan via his foundation, with Liberal businessman and philanthropist George Soros matching that amount. The remainder of the funding will come from the city.
Bloomberg paid a visit to PBS Newshour to discuss the plan, noting that statistics concerning crime and education seems stacked against black and/or Latino youth and that the city has long been taking measures to address and remedy this:
We've done a number of these kind of things trying to attract the kind of jobs to people who have maybe don't have a formal education, who maybe dropped out of school or don't have great command of the English language or have a blemish on their resume which would keep them from getting a job at a more traditional firm where they do an extensive background check.
The plan includes many challenges, such as convincing employers to hire young men who have been in prison. As for how the initiative is being funded, Bloomberg explains that, as he sees it, "private money is different from public money" and that private money is needed to help push a program that may be "iffy."
My question, however, is this: Aside from whether this is a good or fair use of city money (which will be, and should be, a debate that will unfold in the comments) why present this initiative in terms of race and ethnicity (and, for that matter, gender) rather than painting it as something to help low income students or at-risk youth perform well in school or find jobs? If you're targeting a certain socio-economic class within a city — which is, essentially, what this is, since I'm fairly certain this plan won't benefit upper middle class black suburban students or Latinos whose parents are doctors and lawyers — why paint the issue as if it has something to do with race or ethnicity, as if the issue here is somehow inherent to the black or Latino communities? Are these students not performing well in school or being given adequate mentorship regarding the opportunities available to them because they come from poor neighborhoods and go to underfunded schools or because they're black and/or Latino?
Have a look at the clip, via PBS Newshour:
Watch the full episode. See more PBS NewsHour.
Have a tip we should know? tips@mediaite.com