Mayweather-Pacquiao Fight Breaks Record for PPV Buys and Boredom: Here's One Writer's Regret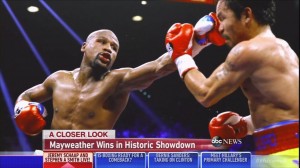 Over the past decade, I've been to my share of big sporting events for a guy who usually prefers the comfort (and cost-effectiveness) of a Man Cave: Stanley Cup Finals (New Jersey Devils in '12), NFL playoffs (New York Giants in '12), NBA playoffs (then-New Jersey Nets in '07). And if you add all the cost of those tickets up, it still doesn't equal what the cash I've dropped over the years to see Floyd Mayweather Jr. fight. Not in person, mind you…but on TV.
The irony is…twice I was in Vegas for bachelor parties on the same weekend of two of Mayweather's fights (Mayweather-De La Hoya in '07) and (Mayweather-Mosely in '10). The boxer appropriately nicknamed "Money" makes the wise business decision to schedule many of his fights around Kentucky Derby weekend, which is always the first Saturday in May and is the apex of the Vegas social calendar. Yesterday's match against Manny Pacquiao was obviously no exception: Tickets for the fight were going for as high as $351,000 per seat. On pay-per-view, the numbers aren't final, but are estimated to be over $300 million in revenue, which would be the most of any event in history.
On cue, the cable and satellite companies found a way to screw up easy revenue for its coffers, as customers of Time Warner, Comcast, Cox, AT&T, Optimum, DirecTV and Charter all took to social media to complain about order malfunctions or poor picture quality. The complaints were so loud, Jim Lampley— who calls every fight with such precision and captures each moment with perfection — even had to acknowledge and apologize for the pay-per-view issues on the air before the fight.
Of course, there's always the option to see the fight at your neighborhood sports bar without the big financial commitment ($100 for HD pay-per-view at home), so I visited two in Hoboken to see what the deal was. Turns out bars are charged a much (much) higher rate than at home, and the two I visited were charging $20 and $40 at the door, respectively. According to Deadspin, bars need a special license to order the fight, with the cost being determined by capacity set by the fire code limit. So if a bar holds 200 people, the cost is $6500. If a joint holds 500, the cost is $15,500.
With babysitters willing to come at midnight non-existent and the wife working (save the pole jokes, people…she's an ER doctor with fun hours sometimes), the fight was (reluctantly) ordered at home after some soul-searching at 11:00 PM EST last night. Reluctantly only because every time I've ordered a Mayweather fight or paid $100 just to see it in a event hall somewhere in Vegas while there (twice), I've always walked away afterward much like Mayweather's opponents: Frustrated, unsatisfied, vexed. In the end, I just keep making the mistake of paying to see a fight about nothing (at least Seinfeld–a show about nothing–was entertaining).
As some of you witnessed, last night's bout was no exception: The pre-fight stuff was a hoot just for the celebrity interviews alone: Denzel, Brady, Beyonce, Jay-Z, Walberg, etc. There was a Clint here, a Jack there, mixed with a Beiber or a Paris. The overall scene was electric…something not felt since the heyday of Mike Tyson (who was also there). The crowd was very much pro-Pacquiao, the underdog and guy in the ring who isn't a serial batterer. Deadspin reports Mayweather has had seven assaults against five women that either led to arrest or citations. There have been other episodes when the police were contacted, but no charges ultimately filed.
So here we were again. Another Fight of the Century. The fighters touched gloves after instructions. The crowd roared after the opening bell.
And then…pretty much nothing happened over the next 48 minutes.
Mayweather was, well, Mayweather: Avoiding punches with seemingly little effort, making his younger opponent look slow in the process and spinning off the ropes when he did get into momentary trouble. Neither boxer–who took home a combined $300 million for the fight regardless of what happened–seemed content in not taking any chances in any capacity. The only time Pacquiao had Mayweather in any trouble (Round 4), he fired several shots to the head and body before mysteriously backing off to avoid, as Lampley put it, "punching himself out." He would never come close to pinning Mayweather on the ropes again.
The rest of the fight might as well been Wile E. Coyote vs. Bugs Bunny, and we know how that always turns out. Mayweather dancing and ducking, throwing the occasional counterpunch (with no real conviction) while Pacquiao looked tired from chasing him with so little to show for it (landing only 19 percent of punches thrown). And when you thought in the championship rounds (11 and 12) that Pacquiao would go all-out, even at the risk of getting himself knocked out, he pressed with all the urgency of a waiter who's already received his tip.
Now…the beauty of PPV is you don't have a swipe a credit card or slip a guy $100 to see the event. As most of us know, it's tuning to a channel, pressing two buttons, and not seeing the bill until next month. But when that bill comes, rest assured (and I swear, I think…) never to be roped in to paying to see another Mayweather fight again. The Champ's defense is too good. His philosophy is more about winning on points than knocking an opponent out. He's a boxer, not a fighter.
Add it all up, and you have the perfect recipe for utter boredom and an utterly high price.
Floyd Mayweather Jr. says he'll win one more fight to finish a perfect 49-0, tying Rocky Marciano's record…considered one of the most coveted in sport. I can vow never to spend another dime, but we've seen this movie before:
Every time I try to get out…he pulls me back in.
[Photo via ABC News screengrab]
— —
>>Follow Joe Concha on Twitter @JoeConchaTV
Have a tip we should know? tips@mediaite.com