McCain 2008 Advisor Nicolle Wallace Says Game Change Was 'True Enough To Make Me Squirm'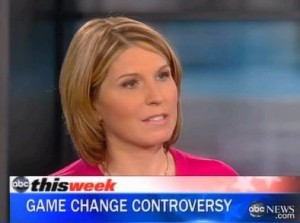 The biggest political event that happened yesterday wasn't a primary, but a movie on HBO about the 2008 campaign and John McCain's decision to make Sarah Palin his running mate. Nicolle Wallace, one of the '08 campaign's top advisors, was on This Week today, and she admitted that the movie was accurate enough to make her feel uncomfortable watching it.
RELATED: Palin Reacts To HBO Movie About 2008 Campaign: 'Based On A False Narrative'
George Stephanopoulos introduced a clip from the film where Wallace has an angry phone conversation with Palin over the infamous Katie Couric interview. In the exchange, Wallace says the interview "sucked" because Palin did not properly prepare for the interview, to which Palin shouts, "I am not your puppet!" Stephanopoulos asked Wallace how "true to life" the movie really was. Wallace's answer showed it was clear the movie's accuracy made her uncomfortable.
"True enough to make me squirm. But, um, you know, this isn't a movie about campaign staff, and this isn't really even a movie about McCain and Palin. This is a movie about the vast gray area in which 99 percent of our politics takes place. And I think what gets boiled down or sometimes the fights, the instant analysis, the black and white of who's up and who's down, the truth is… you're just feeling your way through a very gray area and you're doing your best."
RELATED: The Trailer For HBO's Game Change Depicts Sarah Palin 'On The Verge Of A Complete Mental Breakdown'
Mary Matalin said it was "just a fictional movie" with no ties to the realities of the 2008 campaign. Though one can't help but note that Wallace was actually part of the McCain campaign, so if she thinks it's true enough, does that lend more credibility to it?
Watch the video below, courtesy of ABC:
Have a tip we should know? [email protected]
Josh Feldman - Senior Editor