McCain And Graham Still 'Significantly Troubled' By Rice's Statements On Benghazi After Meeting With Her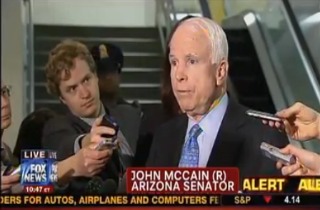 On Fox News Tuesday morning, Senator John McCain stated he is still "significantly troubled" by UN Ambassador Susan Rice's statements about the attack on the U.S. consulate in Benghazi.
Rice met with several senators who were critical of her remarks about the attack, as well as with acting CIA Director Michael Morell.
Senator McCain also questioned whether Ambassador Rice was sufficiently prepared to address the American public. He went on, stating, "It is clear that the information that she gave the American people was incorrect when she said that it was a spontaneous demonstration triggered by a hateful video. It was not. And there was compelling evidence at the time that that was certainly not the case."
Lindsey Graham, another Republican Senator who has been openly critical of Rice and the Obama administration, said to reporters outside Capitol Hill, "Bottom line: I'm more disturbed now than I was before." Graham went on to note that he believes it's better to remain silent than to spread false information:
Before you give bad information, it's better to give no information at all […] If you don't know what happened, just say you don't know what happened. Here's what I can tell you: the American people got bad information on 16 September. They got bad information from President Obama days after and the question is, should they have been giving the information at all?
Kelly Ayotte, a Republican Senator from New Hampshire, agreed with McCain and Graham, saying, "It was certainly clear from the beginning that we knew that those with ties to al-Qaeda were involved in the attack on the embassy and clearly the impression that was given, or the information given to the American people, was wrong."
Watch the full segment, below:

Have a tip we should know? [email protected]