McCain Blasts Obama For 'Fun' And 'Jokes' In Press Conference, Wanting To Go Over Cliff For 'Political Benefit'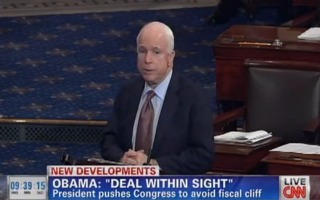 Minutes after President Barack Obama left a stage flanked by supporters where he implored Congressional Republicans to support a tentative deal to avoid going over the fiscal cliff, Sen. John McCain (R-AZ) took to the floor of the Senate to accuse the president of "antagonizing" Republicans. He said that, based on the president's casual press conference, he and the American people have to wonder whether Obama believes it is in his interest to go over the cliff.

RELATED: Obama's Campaign-Style 'Cliff' Speech Rips GOP For Anti-Tax Stance, Praises Self For 'Responsible' Approach
In his speech to his fellow colleagues in the Senate on Monday, McCain did not express any faith that Obama's press conference had moved the ball forward on negotiations to resolve the fiscal cliff.
"What did the President of the United States just do," McCain asked. "Well, he kind of made fun – he made a couple of jokes. Laughed about how people are going to be here for New Years. Sent a message of confrontation to the Republicans; I believe he said, 'if they think they're going to do that, they've got another thought coming.'
"I guess I have to wonder – and the American people have to wonder – whether the president really wants this issue resolved, or is it to his short term political benefit for us to go over the cliff," McCain added. "I can assure the president, I can assure him, that historians judge presidents on their achievements."
Watch the clip below via CNN:
> >Follow Noah Rothman (@Noah_C_Rothman) on Twitter
Have a tip we should know? tips@mediaite.com