McCain Clarifies Remarks About Palin Being Better VP For 2008 Campaign Than Romney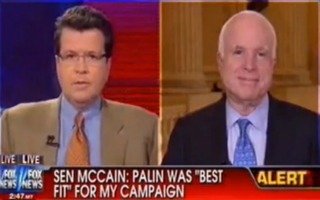 On Fox News Channel on Wednesday, Neil Cavuto invited Sen. John McCain (R-AZ) on his program to clarify remarks that he made about Mitt Romney when he said that he believed former Alaska Gov. Sarah Palin made a better vice presidential candidate. Romney's critics took that to mean that McCain was saying that Palin was a better politician and a better candidate for president than Romney. McCain spoke out against this misperception saying, "Mitt Romney is imminently qualified to be President of the United States."

RELATED: McCain: I Chose Palin Because She Was The Better Candidate, Not Because Of Romney's Tax Returns
Cavuto asked McCain to explain why he did not pick Mitt Romney to be his running mate four years ago. McCain explained that his campaign was seeking a boost of enthusiasm from the electorate and Romney "did not fit the campaign."
"I have nothing but the highest regard for Mitt Romney," said McCain. "We were down, the economy was bad. You know, all those things that prevailed in 2008. We thought it was best at the time."
"Mitt Romney is imminently qualified to be President of the United States, not vice president," McCain added.
McCain said that, while he was privy to Romney's tax returns when he was vetting the former Massachusetts governor to be his running mate, he would not divulge the details of what he read. "I never, nor does any presidential candidate, reveal that information that is given otherwise we'd never get it," said McCain.
He added that the campaign President Barack Obama has been engaging in is indicative of "Chicago-style sleaze tactics" to divert voter's attention from the economy. "It's so frustrating," he said. "The reason why we selected Sarah Palin is because she fit into our campaign plans."
"Do you think you would have won with Mitt Romney," Cavuto asked. McCain explained that he faced an uphill battle after September of 2008 when the market collapsed. Cavuto added that he thought McCain could have had "Jesus on the ticket" and it would not have improved his chances of being elected president.
Watch the interview below via Fox News Channel:
> >Follow Noah Rothman (@Noah_C_Rothman) on Twitter
Have a tip we should know? [email protected]