McCain Explains Obama's Debate Performance: 'Four Years Inside The Bubble With An Adoring Media'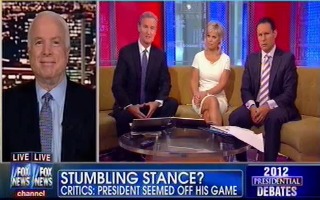 Sen. John McCain (R-AZ) appeared on Fox & Friends on Thursday morning to offer his review of the first presidential debate between Mitt Romney and President Barack Obama. When asked for his impression of the outcome of the debate, McCain said wryly, "If it were a fight, they would have stopped it."

RELATED: Ed Schultz: 'I Was Absolutely Stunned,' Obama Was 'Off His Game'
"You're review of what you saw last night," Brian Kilmeade asked.
"Americans saw the real Mitt Romney, as opposed to the hundreds of millions of dollars of attack ads that have been portraying him as, you know, all the things that they have done."
McCain praised Romney's performance and said that his attacks on Obama's taking $761 billion from Medicare to pay for Obamacare were particularly effective. He also said that Romney looked presidential when he highlighted his experience reaching across the aisle whereas Obama defended his record of working primarily with partisan majorities.
"It really exposed the president who really thinks that all he had to do was go it alone," said McCain.
"How do you explain the president," Steve Doocy asked. "He was flat. He spoke haltingly. His body language was terrible. He looked like he wanted to be anyplace but right there."
"Four years inside the bubble with an adoring media," McCain replied.
"The left is savaging him today," Doocy noted. "They're really disappointed that he let them down."
"He'll recover," McCain said dryly. He closed by warning that no one should write off President Obama – he said that the president is a skilled politician and will perform better in the upcoming "town hall-style" debate.
Watch the segment below via Fox News Channel:
> >Follow Noah Rothman (@Noah_C_Rothman) on Twitter
Have a tip we should know? tips@mediaite.com