McCain: 'Extremely Skeptical' of Russian Offer, But 'Mistake' Not to Pursue It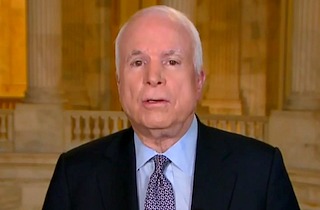 Arizona Senator John McCain said he was "extremely skeptical" of Russia's offer for Syrian President Bashar al-Assad to cede his country's chemical weapons to avoid U.S. missile strikes, but added that it would be a "mistake" not to investigate the possibility of a diplomatic settlement.
McCain said the possibility of a new deal will "obviously" delay a strike. "We have to see how this plays out. Again, put me down as extremely skeptical, but to not pursue this option would be a mistake."
The Senator, who has been one of the most hawkish voices on action against Syria, wanted any negotiations over the seizure of chemical weapons to happen rapidly, and under international scrutiny.
"I think the best test right away would be the Syrian acceptance of international monitors to go to these chemical weapons sites, get them under control immediately, while the details of whatever disposal and other modalities are being considered and agreed upon," McCain said. "If he's serious, then let the monitors in there right away—we know where these chemical weapons sites are—and get them under control immediately."
RELATED: 'Unbelievably Unhelpful': Kerry Under Fire for 'Small' Comments on Syria Strike
McCain added that the threat of a military strike had made such a political settlement possible, but still criticized the Obama administration for muddled messaging.
"Perhaps his would not have come about had it not been for the threat of a military strike, so there is some credibility to that course of action," McCain said. And then, in reference to woeful poll numbers that had preceded his interview, followed up: "Have no doubt, the numbers you just saw are because of an incoherence about the message as to exactly what the United States is trying to do in Syria. When the Secretary of State says that a strike would be 'unbelievable small,' what does that mean?"
Watch the full clip here, via CBS News:
[Image via screengrab]
——
>> Follow Evan McMurry (@evanmcmurry) on Twitter
Have a tip we should know? tips@mediaite.com