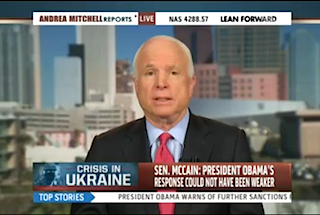 Sen. John McCain's rhetoric on the conflict between Ukraine and Russia over the Crimea region continues to escalate in intensity as the days go by. On Friday, he penned an op-ed in The New York Times under the headline "Obama Has Made America Look Weak." Sunday, he told CNN's Candy Crowley that "Russia is a gas station masquerading as a country."
And today, following President Barack Obama's announcement of new sanctions against Russians responsible for seizing Crimea, McCain told MSNBC's Andrea Mitchell that the president should have promised "military assistance" to Ukraine.
"The president should have said we'll provide military assistance to Ukraine and that will be in defensive weaponry," McCain said. "But to not do that after this country has lost a large part of its territory due to Russian aggression, I think frankly it's encouraging and it makes me less optimistic about Putin exercising restraint in Eastern Ukraine."
"They want it very badly," McCain said later of Ukraine's desire for military support from the U.S. "Their military capabilities have been dramatically eroded over the last several years under Yanukovych and they need capabilities in which to fight. You could give them anti-air equipment, you could give them anti-tank, you could help with their training. One of the things I would do is send the military to Kiev and find out how to best assist them."
"This president's response, I don't know how it could have been weaker besides doing nothing," McCain declared.
As he did in the case of Syria's civil war, President Obama has clearly been reluctant to even mention the possibility of military intervention of any kind by the U.S. in the region. If it were up to Sen. McCain, American weapons, if not troops, would likely already be on the ground in Ukraine.
Watch video below, via MSNBC:
[photo via screengrab]
— —
>> Follow Matt Wilstein (@TheMattWilstein) on Twitter
Have a tip we should know? tips@mediaite.com