McCain On Obama's Private Sector Gaffe: 'Media Is Not Too Unfriendly To The President'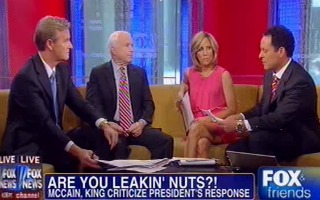 Sen. John McCain appeared on Fox & Friends on Monday to discuss the intelligence leaks relating to national security and President Obama's gaffe from Friday where he said that "the private sector is doing fine." When asked if he thought the gaffe would negatively impact the President's reelection campaign, McCain said that he thought it depended on the media coverage of his misstatement. "The media is not too unfriendly to the President," said McCain.

RELATED: John McCain Calls Bill Clinton 'Gift That Keeps On Giving,' Thanks CNBC For Having Him On
Concern from bipartisan members of Congress has prompted the Department of Justice to announce they would launch an investigation into a series of intelligence leaks out of the Obama administration. McCain told Fox & Friends that Democratic and Republican members of the House and Senate Intelligence Committees are "outraged," and called for an independent investigator to look into the leaks.
McCain said that Eric Holder "doesn't have the credibility" to mount an investigation into these leaks and cited the investigation into the exposing of CIA agent Valerie Plame that resulted in the conviction of Scooter Libby as a model of a credible independent investigation.
"You would think the White House would want that just on a credibility issue," said McCain.
McCain continued to say that he is convinced that the leaks came from within the Obama administration.
"I don't think there is any doubt it came from the administration," said McCain. "We need to find out who and what as best we can – and a special counsel is obviously the way to do that."
Moving onto politics, Fox & Friends weekend host Alisyn Camerota played a clip of President Obama from Friday where he said "the private sector is doing fine." They then played a clip of McCain from 2008 telling a crowd that, following the collapse of Lehman Brothers, "the fundamentals of our economy are strong."
"We just had a stock market crash and the people were very nervous and I wanted to try to reassure them that the fundamentals of our economy were good – I still believe that," said McCain of his 2008 gaffe. However, he said that Obama's gaffe betrays a deeper misunderstanding of the state of the economy.
"It shows the philosophy of the President of the United States," McCain said. "He believes that having state, federal and local governments hire more people that that's the answer, the way out. Mitt Romney believes that its business that creates jobs."
Co-host Brian Kilmeade equated McCain's 2008 gaffe with that of Sen. John Kerry in 2004 when he said that "I was for it before I was against it." Both gaffes, he said, were difficult to shake heading into the general election and asked McCain if he felt that Obama's gaffe will have a similar shelf life.
"Very candidly, it all depends on the media coverage," McCain responded. "I would argue that a lot of the media is not too unfriendly to the President. It is certainly defining in that it describes his philosophy."
He said that President Obama's first term has been characterized by efforts to end the recession that have been " harmful to the country." He continued to say that Obama's three major legislative achievements – Dodd-Frank, the stimulus and health care reform – were "absolute failures."
Watch the segment below via Fox News Channel:
Follow Noah Rothman on Twitter
Have a tip we should know? tips@mediaite.com