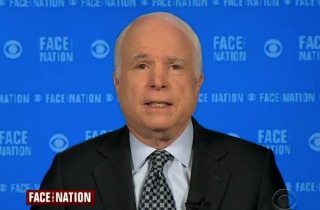 Sen. John McCain (R-AZ) stunned Face the Nation host Bob Schieffer on Sunday morning when he said he was ashamed of his country, of President Barack Obama, and of himself for not providing Ukrainians with weapons to prevent the ongoing bloodshed in Ukraine.
For starters, McCain called German Chancellor Angela Merkel and French President François Hollande "shameful" because they, according to him, "legitimized, for the first time in 70 years, the dismemberment of a country in Europe."
"The Ukrainians aren't asking ofr American boots on the ground, that's not the question here," McCain said. "They're asking for weapons to defend themselves and they're being slaughtered and their military is being shattered."
Then came the line that stunned Schieffer: "This is a shameful chapter. I'm ashamed of my country, I'm ashamed of my president, and I'm ashamed of myself that I haven't done more to help these people. It is really, really, heartbreaking."
McCain has been a forceful advocate of providing the Ukrainians with weapons to counter the "aggression" coming from the Russians. That has yet to occur, and as a result, McCain said, Russian President Vladimir Putin is succeeding in making sure Ukraine is not part of Europe.
At the end of the interview, Schieffer expressed his shock: "Well I'll say this, senator. I've known you for a long, long time, interviewed you many, many times. I've never heard you say, 'I'm ashamed of my country,' which you just said."
Watch the video below, via CBS:
[Image via screengrab]
— —
>>Follow Andrew Desiderio (@forza_desiderio) on Twitter
Have a tip we should know? tips@mediaite.com