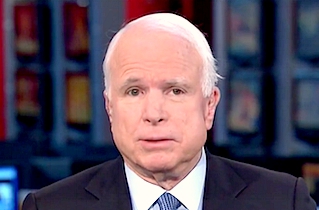 It's the moment for which everyone's been waiting for the past 42 hours or so: Senator John McCain (R-AZ) responded to celebrity plutocrat Donald Trump's comments about his war heroism on Morning Joe Monday morning, saying that Trump didn't owe him an apology but owed it to all POWs.
"I think he may owe an apology to the families of those who have sacrificed in conflict and those who have undergone the prison experience in serving their country," McCain said, adding that he also harshly denounced the GOP's Swiftboat-ing of then-Democratic nominee John Kerry.
"When Mr. Trump said he prefers to be with people who are not captured — well, the great honor of my life was to serve in the company of heroes. I'm not a hero. But those who were my senior ranking officers…those that inspired us to do things we otherwise wouldn't have been capable of doing — those are the people that I think he owes an apology to."
Trump criticized McCain's war service at an event on Saturday, saying he preferred soldiers who didn't get captured; it appeared a response to McCain's labeling Trump's followers as "crazies." The RNC, along with almost every GOP candidate except Senator Ted Cruz (R-TX), denounced Trump, and former Texas Governor Rick Perry even said he should exit the race.
On this latter point, McCain wouldn't comment, saying such a decision was up to Trump. He didn't seem too impressed with Trump's poll numbers, however, predicting they would soon falter.
McCain aldo rebutted Trump's charge that he had done nothing for veterans but "talk," referencing two pieces of legislation he recently proposed on the vet suicide rate.
Watch the clip below, via MSNBC:
[Image via screengrab]
——
>> Follow Evan McMurry (@evanmcmurry) on Twitter
Have a tip we should know? tips@mediaite.com