McCain Rips Into Michele Bachmann's Accusation That Sec. Clinton Aide Is Muslim Brotherhood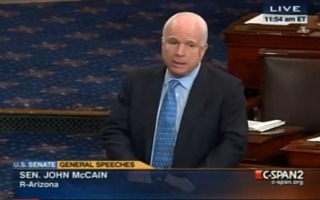 Sen. John McCain (R-AZ) took to the Senate floor on Wednesday to defend a longtime aide to Sec. Hillary Clinton, Huma Abedin, from the accusations made by some members of Congress that she has links to the Egyptian Islamist political movement, the Muslim Brotherhood.

RELATED: Rep. Michele Bachmann Bashes 'Unprecedented,' 'Wildly Unpopular' Obamacare On CNN
"Recently, it has been alleged that Huma Abedin – a Muslim-American – is part of a nefarious conspiracy to harm the United States by unduly influencing U.S. foreign policy at the department of state in favor of the Muslim Brotherhood and other islamist causes," said McCain.
Without naming her in his Senate floor speech, Sen. McCain was defending Abedin from accusations levied by the Center for Security Policy and advanced by Rep. Michele Bachmann (R-MN), among others members of Congress, that the Muslim Brotherhood had infiltrated several U.S. government institutions.
Bachmann told a radio host in June that she believed "there has been deep penetration in the halls of our United States government by the Muslim Brotherhood." When a request for clarification was made by her colleague Rep. Keith Ellison (D-MN), Bachmann submitted a letter in which she expressed concern about Abedin's financial connection to the Brotherhood.
"These allegations about Huma Abedin, and the report from which they are drawn, are nothing less than an unwarranted and unfounded attack on an honorable citizen, a dedicated America and a loyal public servant," McCain continued.
Abedin, wife of former Democratic New York Rep. Anthony Wiener, began working for Hillary Clinton in the White House in 1996 and has served as her aide throughout her career as a Senator from New York and continues to work for her today in the U.S. State Department.
"Huma Abedin represents what is best about America," said McCain. "The daughter of immigrants who has risen to the highest levels of our government on the basis of her substantial personal merit and her abiding commitment to the American ideals that she embodies."
"I am proud to know her," McCain continued. "And I am proud – even with some personal presumption – to call her my friend."
Watch McCain's address to the Senate below via C-SPAN2:
> >Follow Noah Rothman (@Noah_C_Rothman) on Twitter
Have a tip we should know? tips@mediaite.com