McCain Slams Fox's Kilmeade for Objecting to 'Allahu Akbar': Like 'Christian Saying Thank God'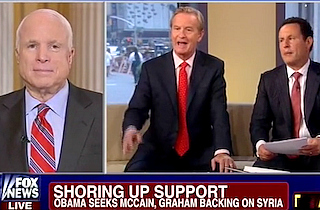 Arizona Senator John McCain pushed back against Fox & Friends host Brian Kilmeade, and their earlier guest Laura Ingraham, strongly announcing that he was not "bailing out" President Barack Obama, and that the Syrian Free Army was not comprised of Muslim extremists, but moderates whom the U.S. should be arming.
Host Brian Kilmeade played a clip of Syrian rebels yelling, "Allahu Akbar" after shooting down a fighter jet, and wondered if McCain, who had met with Syrian rebels, was comfortable supporting an army that might contain "Muslim extremists."
"I have a problem helping those people if they're screaming that after a hit," Kilmeade said.
McCain was flabbergasted. "You have a problem with that? Would you have a problem with an American, a Christian, saying 'Thank God? Thank God?' That's what they're saying. Come on. Of course they're Muslims. But they're moderates, and I guarantee you that they are moderates. I know them and I've been with them. For someone to say 'Allahu Akbar' is about as offensive as someone saying 'thank God.'"
RELATED: McCain: Won't Support Syria Resolution if it's 'Doomed to Failure'
The hosts also asked McCain about Ingraham's comment on a previous segment that McCain was "flip-flopping" on his support for Syrian war. McCain strongly objected to both Ingraham and the hosts' characterization that he was out stumping for Obama's foreign policy.
"First of all, I didn't say 'Hey, we got to support this,'" McCain said. "I said I've got to see the details. I've got to see what's gonna happen…I'm very worried about just one of these cosmetic kind of resolutions. So I just beg to differ. I'm sure that with [Ingraham's] vast knowledge of military tactics and strategies, she knows better than me."
Watch the full clip below, via Fox News:
[h/t TP]
————
>> Follow Evan McMurry (@evanmcmurry) on Twitter
Image via Fox
Have a tip we should know? tips@mediaite.com