McCain To Piers Morgan: When I Buck GOP Leadership I'm A Maverick, But For Slamming Rand Paul I'm 'An Angry Old Man'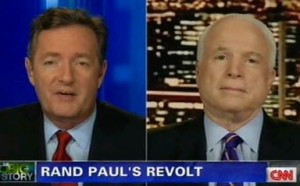 John McCain has gotten quite a bit of attention after he took to the Senate floor on Thursday to publicly rebuke (which is actually sugercoating it) a member of his own party, Rand Paul, for holding a 13-hour filibuster on the issue of drone strikes. McCain talked with Piers Morgan tonight about his objections to Paul, and observed that when he speaks his mind against GOP leadership he's considered a brave maverick, but when he rebuts the filibuster of one junior senator he's suddenly the "angry old man" who's out of touch with reality.
RELATED: Shep Smith Grills McCain Over His Rand Paul Criticism, Offends Him By Calling Him 'Interventionist'
McCain explained to Morgan that he thinks it's completely ridiculous to assume the United States would just decide to kill a citizen on American soil, saying "it's not the world of reality." He said that in the grand scope of U.S. foreign policy, there are more pressing issues to deal with than the hypothetical offered up by Paul.
Morgan then ran a clip of Newt Gingrich admitting his disappointment with McCain for being so critical of Paul. Morgan said that Gingrich and others appear to be dismissing McCain as a "bit of an old fuddy-duddy." McCain laughed it off and said he found it interesting that when he disagrees with party leadership, he's praised as a maverick, but when he takes on others, they dismiss him as an "angry old man."
McCain, however, admitted that if in the future there is an extraordinary cirumstance that requires swift action, "we would need to respond in every way possible."
Watch the video below, courtesy of CNN:
—–
Follow Josh Feldman on Twitter: @feldmaniac
Have a tip we should know? tips@mediaite.com
Josh Feldman - Senior Editor