McCain: Film Zero Dark Thirty Falsely Links Bin Laden Capture To Torture
McCain:
Zero Dark Thirty
Inaccurate In Portrayal Of Torture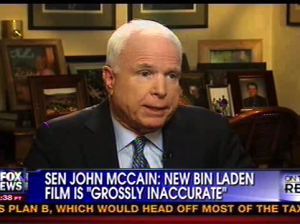 One of the most eagerly-anticipated movies of the holiday season, Kathryn Bigelow's Zero Dark Thirty, is getting very positive critical reviews ahead of its release, and it has emerged as an early Oscar contender. However, critics of the film are alleging it paints a misleading picture of the role of torture in getting the intelligence that led to tracking down Osama bin Laden. John McCain told Greta Van Susteren tonight that he has serious concerns with the portrayal of torture in the film, and has sent a letter to the head of Sony, the movie studio behind the film.
RELATED: Joe Scarborough Claims Zero Dark Thirty Torture Scene True, Screenwriter And Facts Disagree
McCain explained that he watched the film, and it depicts very graphic torture scenes and waterboarding carried out by CIA interrogators, and the implication of the film is that torture was a "major factor" in receiving critical intelligence that led to the raid on bin Laden's compound. He stated plainly that no important information related to bin Laden was a result of torture, and suggested the filmmakers received "bad information" in researching the film.
Van Susteren asked McCain what he is trying to accomplish with his letter to the head of Sony Pictures. McCain said the filmmakers should acknowledge that they had inaccurate information, despite the remarkable level of access they had from the CIA.
McCain made it clear that even if any important information was obtained as a result of torture, the fact that the United States is torturing people "harms the image of the United States."
Watch the video below, courtesy of Fox News:
—–
Follow Josh Feldman on Twitter: @feldmaniac
Have a tip we should know? tips@mediaite.com
Josh Feldman - Senior Editor