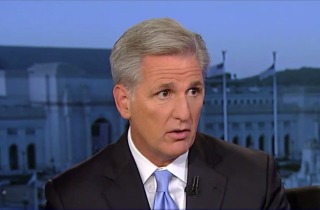 House Majority Leader Kevin McCarthy sought to clarify his comments about the objectives of the House Select Committee on Benghazi, telling Bret Baier Thursday night that the investigation's "one sole purpose" is to get answers for the families of those who died in the 2012 attack.
"I did not intend to imply in any way that that work is political," McCarthy said. "Of course it is not."
When pressed further by Baier about his specific comments from Tuesday night — during which the likely soon-to-be Speaker of the House suggested the committee has been successful in driving down Hillary Clinton's poll numbers — McCarthy said the revelation about the former Secretary of State's private email server was brought to light as a result of the committee's attempt to "get the truth out" about the Benghazi attack.
"Sometimes truth comes out in other manners, and let's not let politics hold that back," he added.
McCarthy denied that his original comments will make the committee's work more difficult, and said he apologized to its chairman, Rep. Trey Gowdy (R-SC). The California Republican also acknowledged that he may have created a setback for his fellow Republicans on the panel.
On Tuesday night, McCarthy was more blunt. "Everybody thought Hillary Clinton was unbeatable, right?" he told Fox News' Sean Hannity. "But we put together a Benghazi special committee, a select committee. What are her numbers today? Her numbers are dropping. Why? Because she's untrustable."
Those remarks have proven problematic for Republicans, who have defended the committee's work from Democrats' criticisms since its inception in May 2014. Democrats have called on the GOP to disband the committee for months, claiming its only objective is to derail Clinton's presidential campaign. But McCarthy's comments gave them new political ammunition.
Clinton said it was "deeply distressing" that McCarthy would connect the investigation to her poll numbers, while Congressional Democrats echoed their long-standing criticisms.
In a statement, House Speaker John Boehner said the investigation "has never been about former Secretary of State Clinton and never will be," while Rep. Thomas Massie (R-KY) called on McCarthy to apologize to the families of the victims of the Benghazi attack. Despite speculation that Democrats would boycott the committee's future proceedings, Rep. Elijah Cummings (R-MD), the top Democrat, said he will be there to defend Clinton from Republicans' "political attacks."
Watch the video above, via Fox News.
[Image via screengrab]
— —
>>Follow Andrew Desiderio (@desiderioDC) on Twitter
Have a tip we should know? tips@mediaite.com