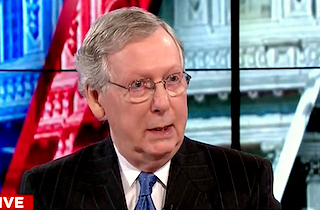 Senate Majority Leader Mitch McConnell (R-KY) told State of the Union guest-host Dana Bash the Senate would put off consideration of Attorney General nominee Loretta Lynch to force a vote on a human trafficking bill that Democrats will likely reject over an abortion provision.
"The Democrats are acting the same way in the minority as they did in the majority," McConnell said. "They don't seem to like to vote."
The human trafficking bill went from a sure-thing to yet another highly-contested piece of legislation this week when Senate Democrats discovered it contained a provision barring funds for use for abortions, a provision similar to the Hyde Amendment. Democrats accused Republicans of smuggling the provision into the bill, while also admitting that they had not read the bill carefully enough before this week's vote.
"This will have an impact on the timing of considering the new Attorney General," McConnell said. "I had hoped to turn to her next week, but if we can't finish the trafficking bill, she will be put off again. They need to come to grips with this this."
Bash asked what the harm was in removing the offending provision and proceeding. McConnell replied that doing so would require votes from Republicans who approve of the provision.
But holding up the trafficking vote could push Lynch's nomination weeks down the road. Bash intimated that threatening to hold up Lynch's nomination over an abortion provision in a human-trafficking bill was exactly the kind of gratuitous gridlock McConnell had pledged to stop as Majority Leader.
"It's not a threat," McConnell said. "We need to finish this human trafficking bill that came out of the Judiciary Committee unanimous unanimously."
Watch the clip below, via CNN:
[Image via screengrab]
——
>> Follow Evan McMurry (@evanmcmurry) on Twitter
Have a tip we should know? tips@mediaite.com