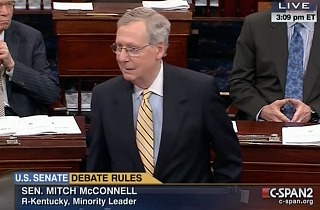 On Thursday, Senate Majority Leader Harry Reid (D-NV) proposed an amendment to the United States Constitution that would limit the amount of money individuals could contribute to politicians and political causes. Speaking out against this plan, Senate Minority Leader Mitch McConnell (R-KY) railed against the Democrats' "scandalous" plan aimed at curtailing the protections in the Bill of Rights.

"It's fitting that the majority leader announced today he wants to rewrite the Constitution," McConnell said. "I mean, at least you have to give them marks for consistency. They are already muzzling our constituents by blocking amendments. Now they want to muzzle them even more by changing the Bill of Rights."
RELATED: Reid Backs Constitutional Amendment Limiting Campaign Contributions
"Why are Washington Democrats so afraid of a free and open exchange of ideas?" McConnell asked. "What are they afraid of? Do they have that little faith in the judgment of the people we represent?"
"What they're doing is muzzling the people of this country — a gag order on the people we were sent here to represent — all presumably to protect their power," the minority leader concluded. "This is really quite scandalous."
The protections granted to individual political donors were granted after the Supreme Court struck down a series of laws that restricted political spending in 2010 and 2014. The Court determined that those restrictions were incompatible with the First Amendment to the Constitution.
Watch the clip below via C-SPAN 2:
[Image via screengrab]
— —
>> Follow Noah Rothman (@NoahCRothman) on Twitter
Have a tip we should know? tips@mediaite.com