McLaughlin Group Panel Investigates: Will Obama Face War Crimes Prosecution Over Drones?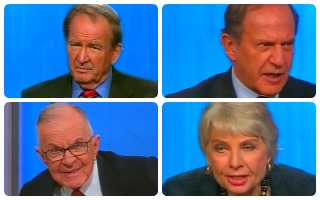 The panel guests on CBS' McLaughlin Group weighed in on the debate over President Barack Obama's use of drones in the war on terror on Sunday. With the news that the United Nations will be investigating whether drone warfare constitutes a crime of war, the guests were asked if the president will face arrest and prosecution for war crimes if he leaves the country.

RELATED: GOP Rep. Peter King Dismisses Concerns About Drone Warfare: 'So Much Liberal Hand-Wringing'
"The United Nations Human Rights Council is now investigating drone strikes," noted host John McLaughlin. "If some or all of anti-terrorist drone use is found to constitute war crimes, and the U.N. moves the matter to the ICC – which is the U.N.'s international criminal court – will President Obama be able to travel overseas for the rest of his life without fearing ending up in the ICC docket?"
"We should tell the ICC to mind its own business," conservative commentator Pat Buchanan shot back. "But we should have the Congress of the United States and the leaders of the United States debate this issue and set rules of engagement we can all agree upon and follow."
Newsweek contributing editor Eleanor Clift said that the issues that will be raised by the U.N. were debated this week during the Senate confirmation hearings for director of the Central Intelligence Agency nominee, John Brennan.
"It's nice that we're fighting about it, but the drone program is here to stay. And I don't believe that the U.N. may — is going to raise questions about invading the sovereignty of other countries, " Clift said. "But they don't have any power to stop this, and we're not going to be the only country that has drones."
Washington bureau chief for The Huffington Post, Ryan Grimm, said that Obama can look to past Secretaries of State who have been threatened with criminal arrest by certain other nations and have opted not to travel there. "I think it'll depend on the political climate over the next 20 years," Grimm said. "If these are the weapons of the future – and the world decides that this is how we want to fight war, with robots firing arbitrary death out of the sky, then he'll probably be okay."
"I think we'll live to regret this though," Grimm concluded.
"I don't think we'll live to regret it. I think we would regret it if we didn't do something about it if we were attacked," countered U.S. News & World Reports editor-in-chief Mort Zuckerman. "This is the role, as I say, of the executive branch."
At the conclusion of the segment, both Buchanan and Clift agreed – despite their divergent political leanings – that American drone bases in places like Saudi Arabia will stir up the resentment among Arab peoples that led to Osama bin Laden's crusade against the West. Clift, however, dismissed drone bases as "just one more" reason why Arab people "hate us."
Watch the clip below via CBS:
> >Follow Noah Rothman (@NoahCRothman) on Twitter
Have a tip we should know? tips@mediaite.com