'Mean' Gene Sperling Blasts Back At Woodward On ABC: 'Bob Woodward Is A Legend'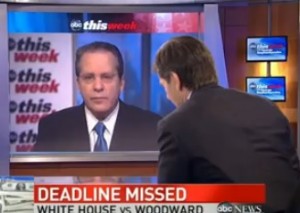 Washington Post reporter Bob Woodward hasn't been in the news this much since fondue pots were figuratively hot, but by publicizing the White House's attempt to intimidate him into not being an idiot, the former Watergate reporter became a gate unto himself this week. Gene Sperling, the man who told Woodward he would "regret" falsely claiming that the White House had "moved the goalposts" on deficit reduction, appeared  on ABC News' This Week with George Stephanopoulos to continue his rain of fire on Woodward.
Bob Woodward spent several days playing the victim over the White House's audacity to push back on Woodward's self-evidently false claim that the President "moved the goal posts" on deficit reduction, and his specious claim that the White House "initiated" the sequester provisions of the Budget Control Act that now threaten to end civilization as we know it. He jumped onto the shark Wednesday night, however, when he suggested that a senior White House official had tried to intimidate him in an email exchange, pulling one line out of context: "You're going to regret this!"
Woodward later tried to walk back the idea that he was "threatened," but when CNN anchor Wolf Blitzer told Woodward he wasn't the type to be "threatened or intimidated," Woodward's reply was "Indeed."
The email, as it turned out, was the nicest note any reporter has ever gotten from any White House, and was so gentle that Woodward, in his reply, basically had to tell Sperling to nut up and stop apologizing.
On Sunday morning's This Week, host George Stephanopoulos gave Sperling a chance to fire back at Woodward. "I read all the emails; they seem pretty civil on all sides," Stephanopoulos said. "Do you have any idea what made Woodward so uncomfortable? And have you all spoken about it since and cleared this all up?"
Please, Gene, don't hurt him! "You know, George, I've known Bob Woodward for 20 years," Sperling said. "We've had a very friendly and respectful relationship. I think virtually everybody who has looked at my email to him and his reply to me thought those emails reflected that degree of respect and politeness."
Oh, to-the-DAMN! But Sperling wasn't done there. "And the emails were fundamentally substantive," he continued. "I was — I was arguing a case as to why I believed the president asking for balance is consistent with where things have been for the last several years."
(in Mortal Kombat voice) FINISH HIM! "So all I can say, George, is that Bob Woodward is a legend," Sperling concluded. "I hope that him and I can put this behind us."
Sperling went on to refeal that he hasn't talked to Woodward, and after that diatribe, I doubt he ever will. Woodward is probably on the phone to WitSec right now, asking if you really have to "turn state's" to get witness protection.
Here's the clip, from ABC News' This Week:
Follow Tommy Christopher (@TommyXtopher) on Twitter.
Have a tip we should know? tips@mediaite.com