Media Buzz's Kurtz Asks if Reporter's Mistakes 'Overly Magnified' by Media Watchdogs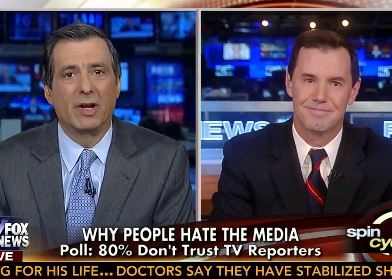 A panel on Fox News Channel's Media Buzz on Sunday dug into the question of why the public so deeply mistrusts the news media. The host and guest asked whether media watchdogs, like this site and others, contribute to the general mistrust of the press because they amplify reporting mistakes and narrative promotion beyond their natural proportion.

Mediaite columnist Joe Concha began by citing a Pew Research Center poll which found that cable news as a whole has become more focused on presenting opinion than presenting straight news.
"So you have reporters out there not only giving you the news, but perhaps giving context, perspective, and opinion," he added. "And when you have a polarized society, what we're seeing is more mistrust in reporters because they may be giving an opinion that the audience may not like."
Concha also cited the emergence of media watchdogs as a possible reason for the public's increasingly low opinion of the press. "Mistakes that used to be missed are now being magnified," Concha said.
Host Howard Kurtz asked if some of these mistakes are being "overly magnified" and the reaction to them is disproportionate to their actual impact.
"So, basically, if one news organization makes a mistake, it does tarnish everybody else because people who don't obsessively follow this say, 'Well, you can't really trust any of them?'" Kurtz asked.
"Exactly," Concha replied.
Watch the clip below via Fox News Channel:
[Photo via screen grab ]
— —
> >Follow Noah Rothman (@NoahCRothman) on Twitter
Have a tip we should know? tips@mediaite.com