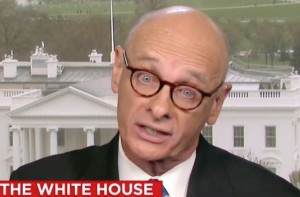 Media critic David Zurawik criticized Fox News on CNN this morning for not being strong enough in its defense of Megyn Kelly.
After another few days of attacks against Kelly, Fox released a pretty powerful statement saying, "Donald Trump's vitriolic attacks against Megyn Kelly and his extreme, sick obsession with her is beneath the dignity of a presidential candidate who wants to occupy the highest office in the land."
The network said she's been verbally abused by Trump's "endless barrage of crude and sexist verbal assaults."
Brian Stelter noted the "tough position" Fox is in here because of how friendly some of its hosts are to Trump. Zurawik said, "This is really late coming by Fox."
RELATED: Fox Slamming Trump on Kelly's Behalf Is a Good First Step; Here's What Should Happen Next
He recalled how back when Trump first attacked Kelly, Fox's defense of her was insufficient and "for all the 'he's supposed to be so smart and a great leader,' I think Roger Ailes tried to cut it both ways." Zurawik believes the earlier Fox statements weren't done "with any kind of vigor or any kind of attitude."
There was quite a bit of behind-the-scenes drama concerning Trump and Ailes last fall. Ailes spoke with Trump on the phone in August and said they cleared things up after he attacked Kelly. And that wasn't the only talk between the two.
There were reports from August that Ailes had threatened to "go to war" with Trump over his attacks on Kelly, and Ailes himself issued a statement publicly calling on Trump to apologize for his "crude" attacks.
RELATED: READ: All of Fox News' Statements to Date Defending Megyn Kelly from Donald Trump
After Trump announced he wouldn't participate in the Fox debate months ago, he specifically pointed to the statement Fox released defending Kelly, in which they mockingly said, "We learned from a secret back channel that the Ayatollah and Putin both intend to treat Donald Trump unfairly when they meet with him if he becomes president."
And on top of all that, this is how Ailes recounted his first post-August debate conversation with Trump a few months ago:
"I did call him after the first go-round and I said, "What the hell is wrong with you? The United States is at war with every goddamn country in the Middle East and you're at war with Megyn Kelly and you think that looks good?"
Kelly herself publicly said she and Ailes didn't want a war with Trump and he has been "nothing but good to me" throughout her time at Fox.
Watch above, via CNN.
[image via screengrab]
— —
Follow Josh Feldman on Twitter: @feldmaniac
Have a tip we should know? tips@mediaite.com
Josh Feldman - Senior Editor