Media Interprets Mitt & Ann Romney's 'Bitter' Reemergence In Exact Same Way They Did For John & Cindy McCain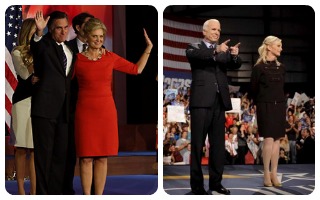 On Sunday, Former Republican presidential nominee Mitt Romney and his wife, Ann Romney, broke their self-imposed silence in the wake of the 2012 campaign. The reaction to the couple's reemergence from many in the political press has been predictably aggravated. At least, this condition is predictable for those who recall how the media reacted when Sen. John McCain (R-AZ) and Cindy McCain broke their silence approximately four years ago. The 2008 GOP presidential nominee and his wife reacted nearly identically in early 2009 as the 2012 nominee and wife have reacted in 2013, and the press is as repulsed today as they were then by their recollection of the presidential election.

Sitting down with Fox News Sunday's Chris Wallace, both Mitt and Ann Romney gave a wide-ranging interview about how they experienced the 2012 presidential election and how their lives have changed in the wake of their loss. Most importantly, and perhaps most egregiously if you're a member of the political press, Romney weighed back into politics. He criticized the president strongly for not leading and working privately with his political opponents but engaging instead in a continuation of the campaign.
To watch the mortified panel guests on MSNBC's Morning Joe weigh in on this interview, you would have thought Romney had come out as a die-hard fan of Rick Dees' Disco Duck.
"The Romneys are trying — have been dignified in defeat, but I think whenever you come out and talk about what went wrong, there's just — it sort of wreaks of the bitterness and the regret," said McCain campaign official Nicolle Wallace who twice called the interview "hard to watch."
But it was Ann Romney's portion of the interview with Wallace where the greatest infraction was committed. Ann Romney dared attack the media for the tone of their coverage of her and her husband.
"I'm happy to blame the media," Ann Romney replied when asked what role the press may have had in the campaign's loss. "He was not given a fair shake. People weren't allowed to see him for who he really was."
"It was entitlement overload in this interview," wrote PoliticusUSA's Jason Easley. "Ann Romney is so much like Sarah Palin that it is almost scary."
It wasn't the media's fault that the Romneys were completely unlikable. It wasn't the media's fault that Ann Romney spent her time on the campaign trail torn between acting entitled to the presidency, and pitying herself. The media didn't worry that Mitt Romney was losing his mind on the campaign trail. The media didn't lecture the Republican Party that they were lucky to have Mitt.
"[A]n examination of what Romney did and failed to do strategically when it came to letting people know who he really was makes clear that the blame lies firmly with the candidate, not the media," opined the Washington Post's Chris Cillizza. "Remember: If you are bad at tennis, it's not the racket's fault."
"Mitt might have have [sic] been the Republican presidential nominee, but his wife, Ann, is suffering from a serious case of sour grapes," the Washington Post's Jonathan Capehart echoed. "There were many examples during the campaign of Ann's imperious belief that she deserved to be first lady of the United States. And in December, The Post's Philip Rucker had a superb story about Mitt and Ann Romney's post-loss life. According to friends of Ann's, Rucker reported, she "believed up until the end that ascending to the White House was their destiny. They said she has been crying in private and trying to get back to riding her horses."
"As the Fox interview painfully made plain, Ann is still crying. She needs to follow her husband's example. Quit the rhetorical waterworks and move on," Capehart concluded.
Mitt Romney took a longer break from the public sphere than his Republican presidential predecessor, John McCain, did. After all, being a sitting U.S. senator means having to make a public statement now and again. But it was March of 2009 that Arizona's then-junior senator took the gloves off and made his opposition to Obama's policy prescriptions abundantly clear.
Weeks after the passage of the massive American Recovery and Reinvestment Act of 2009 (the stimulus), Congress took up another $400 billion omnibus spending bill that cover discretionary spending. The massive new spending and earmarks was too much for McCain to stomach. "If it seems like I'm angry, it's because I am," McCain said in a speech on the Senate floor. "Americans all over this country hope for change."
"They hope the corruption, earmarking and pork-barrel practices will stop. What are we giving them? We are giving them a slap in the face, that is what we are giving them," McCain added. "So much for the promise of change."
"Why is John McCain being such a jerk?" asked Salon.com's Mike Madden. "It's hard to imagine he doesn't realize calling out Obama will make news, or that people will wonder if the fact that Obama remains far more popular than he is might be what really bothers him."
"Monday's floor speech was the most personal attack yet by the Arizona Republican in what has already become a surprisingly strained, often hostile approach to the new president," wrote POLITICO's David Rogers.
"He is bitter and really angry," Democratic strategist Bob Shrum said of McCain in a 2009 interview with The Huffington Post's Sam Stein. "He is angry at the press, which he thinks is unfair. He is angry at Obama and angry at the voters. He has gone from being an angry old candidate to being an angry old defeated candidate."
Sen. McCain's wife, Cindy, expressed virtually the same concerns about how the media covered her husband's presidential campaign as Ann Romney did. In a January, 2009, interview with The Daily Beast, Cindy McCain blasted the political press in the strongest of terms.
"[There's] very little difference now between journalism and gossip," Cindy McCain said. "Without sounding bitter—and I'm not bitter—I do believe there was a media bias. I do believe that the media had a specific agenda and with that said, the American people cast their vote."
"I truly feel that unless the media goes back to unbiased reporting they are going to do a disservice to the youth of this country. The future of this country lies in the youth and we have to be good stewards of information and truth," she added. "There is so much more to it than just one article and people telling lies, it affects much more than that."
She specifically cited a pre-election New York Times profile of her which charged that "marriage has been defined by her husband's ambitions," and detailed her past miscarriages and her struggle with an addiction to painkillers. Cindy McCain said that she never spoke with the reporter who wrote that article, but noted that the reporter had contacted children who attended high school with her daughter as research for the piece.
This was coupled with an October, 2008, Washington Post editorial which alleged that Cindy McCain was instrumental in getting a cell tower constructed near her Arizona ranch. They cited the McCain's ties to telecommunications giants like Verizon and alleged that this may be grounds for an investigation into an ethics violation. As it turns out, the Secret Service ordered the temporary tower constructed for security reasons.
Given the fact that even Game Change author Mark Halperin decried the "disgusting," "extreme" pro-Obama bias in the media he said he observed in the wake of the 2008 election, the scolding of Cindy McCain was muted from the majority of the mainstream press. That did not stop Democratic bloggers from registering their complaints:
"What must have irked Cindy was that Michelle Obama has no illegal drug history, Michelle Obama did not steal from a charity and Michelle Obama did not commit adultery," wrote a venomous Daily Kos blogger in response. "Cindy McCain must have been really angry that she has never accomplished one thing in her life that wasn't handed to her on a silver platter…by somebody else."
The fact that the press' reaction to both Mitt Romney and John McCain's revived voices in the wake of their electoral losses will provoke no soul-searching in the media. The shocking similarities of the complaints of bias by Ann Romney and Cindy McCain will inspire no introspection. So resistant to self-examination is the press that not even surveys showing their rapidly dwindling credibility will prompt any form of reflection. The problem isn't theirs, it's everyone else's.
> >Follow Noah Rothman (@NoahCRothman) on Twitter
Have a tip we should know? [email protected]