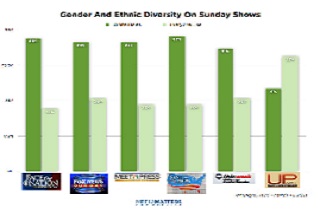 I'm paraphrasing, of course.
Media Matters For America, the liberal watchdog that spends much of its time chewing on Fox News' bones, rarely has anything nice to say. However, the big news that weekend warrior Chris Hayes will take over MSNBC's 8 pm weekday time slot has prompted MMFA to release a study that shows Hayes' show far outpaces other Sunday political shows in terms of diversity, booking a third fewer white male guests, and more than double the proportion of black guests, than the broadcast and cable competition.
The Sunday morning edition of Up with Chris Hayes, which runs from 8 to 10 a.m., is currently more diverse than any of the Sunday morning talk shows on the other networks, as a Media Matters examination of guests since January 1 demonstrates. Most tellingly, white men make up 41 percent of total guests on Up with Chris Hayes (according to data from the U.S. Census, white men make up roughly 39 percent of the U.S. population). In contrast, CBS' Face the Nation, Fox's Fox News Sunday, NBC's Meet the Press, CNN's State of the Union, and ABC's This Week host white men 66 percent, 64 percent, 64 percent, 67 percent, and 61 percent of the time, respectively.

Further, Up with Chris Hayes has more than double the proportion of African-American guests — 21 percent — as compared to each of the other programs. In all, 34 percent of guests on Up with Chris Hayes are non-white. Hayes also hosts more women — 37 percent — than any of the other networks' shows.
The difference is even more stark when viewed in chart form, and the trend toward diversity is something that permeates the network's brand, to their great benefit. It's hardly an apples-to-apples comparison, because the upstart Up with Chris Hayes show doesn't focus on booking big newsmakers as guests, but that's not really an excuse for the Sunday shows, which certainly have as diverse an array of newsmakers to choose from as Hayes does panelists. The MMFA  study is obviously pegged to Hayes' move to primetime, but having watched the network's other marquee weekend offering, Melissa Harris-Perry, I'd wager MHP's guest list is at least as diverse.
The move of Chris Hayes to 8 pm has the potential for ratings gold if his performance mirrors the relative success of Up, and puts me in the awkward position of agreeing with Noah Rothman on the merits of the new lineup. It's not without it's risks, however. Hayes' skills are uniquely suited to Up's 2-hour format, which results in deep dives on a small number of closely-related topics, or even a single topic. How those skills translate into an hourlong show that must hit five or six topics in an hour will help determine the success of the show. Conversely, it remains to be seen if another host can sustain Up's successful formula.
The move also tilts the balance of MSNBC's primetime slate from hot-cool-hot to very-cool-cool-hot, with Lawrence O'Donnell the lone brawler of the lot. Hayes will also be the first even-tempered host to fill that time slot since Phil Donahue. It's a significant shift that tampers with the long-percolating alchemy of a successful lineup, but one which could tip the network into consistent ratings victories in the key demographic. Hayes appeals to younger viewers, which is an area ripe for growth at the network's 8 o'clock hour.
Ed Schultz's move to weekends, meanwhile, will allow him to explore a new format, as he mentioned on Wednesday night's The Ed Show, and put an end to at least four hours of Caught on Camera and/or prison docs. There's been some speculation as to whether he was pushed out or jumped, but given his wife Wendy's recent life-threatening illness, it's probably not the worst thing in the world for Ed to have a little more time on his hands. Knowing Ed, if he were unhappy about the move, we'd know about it sooner or later.
Have a tip we should know? tips@mediaite.com