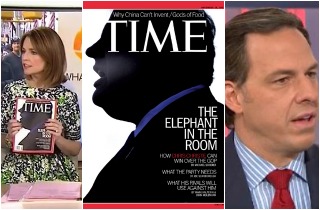 After years of having to sit through countless hours of political pundits parsing virtually every pronouncement by one of President Barack Obama's political opponents for hints of racism, I took to Twitter this morning to pointedly ask why TIME Magazine's mockery of New Jersey Gov. Chris Christie's physical features did not merit nearly as much scrutiny. I can happily report that I was proven incorrect.

On Thursday morning, Salon's Mary Elizabeth Williams expressed her indignation with TIME magazine for linking Christie to an "elephant" with approximately the same level of subtly the Kool-Aid Man employs when plowing through a living room wall.
"You've put me in an uncomfortable position today, Time magazine," Williams confessed.
I'm a public school-supporting, marriage equality-believing, pro-choice liberal who spends a good portion of her time shuddering over the antics of the man who is currently in charge of my beloved home state. I am not the target audience for your magazine stories that paint bullying Republican blowhards as "a White House contender." And now I have to go and tell you not to be jerky to this guy. You angry up my blood, Time magazine.
CNN host Jake Tapper continued the TIME-shaming on Thursday when he chided the periodical (which he noted is, like CNN, a Time Warner property) for appealing to lowest common denominator weight jokes on its cover.
He asked TIME reporter Michael Crowley to "defend" the "rude" cover's implication. Crowley insisted that Christie himself has mocked his own weight issues, but the governor's obesity was not the focus of the TIME story the cover was advertising.
Even Democratic strategist Hilary Rosen took a shot at the cover, saying that it was not only "rude" but was an inaccurate use of the term "elephant in the room."
Tapper went on to express incredulity over the fact that TIME's response to Christie's historic victory in New Jersey, where he won reelection in a blue state by wider margins than President Obama did a year prior, was to call him "fat."
On Friday morning, the team at NBC's Today jumped on TIME as well. Savannah Guthrie began by reporting perfunctorily that TIME has defended the cover by saying they were not commenting on Christie's weight, even though that was her first impression.
"This is still offensive," Natalie Morales said. "I don't think you have to go that far."
"I don't think people appreciate that," Guthrie said of the cover's implication.
So, I can happily admit that I was incorrect in my assumption that the press was not going after TIME as they would had a Republican or media outlet made an insensitive statement about a physical characteristic of a Democratic politician.
Of course, the media's crackdown on TIME for shaming Christie over his weight struck MSNBC host Chris Matthews as the perfect moment to fire off his own classless weight joke. Taking the media's temperature on Thursday, Matthews joked before a Philadelphia audience that Christie may crush his wife during intercourse.
All in all, the TIME cover has been a truly instructive episode.
[Photo via screen grabs/TIME ]
— —
> >Follow Noah Rothman (@NoahCRothman) on Twitter
Have a tip we should know? [email protected]